Easy tips to maximize your wireless connection
Does WiFi interference have your Internet speeds slowing down? Many factors influence your network's performance, but there are a few easy tips you can follow to optimize and maximize your home's high speed Internet performance for gaming and work.
1. Move your router
To get the most out of your Internet, avoid placing the router behind physical barriers that can make it hard for the wireless signal to reach your device, affecting your WiFi speed.
Avoid putting your router behind coarse materials and confined spaces, such as: a corner, basement or closet. Instead, place your router in the center of your home, up off the floor and preferably in a room where the Internet is frequently accessed.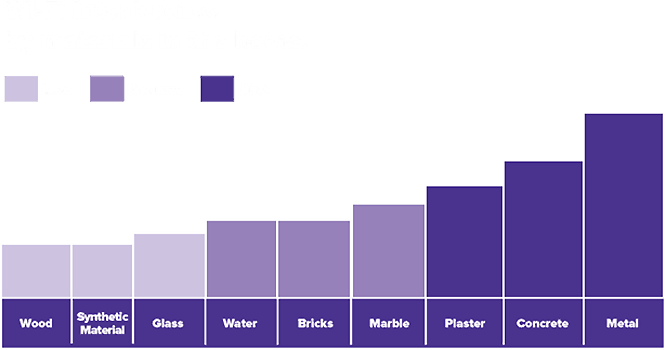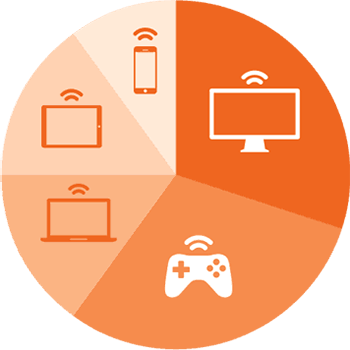 2. Disconnect devices
Multiple devices connected to a router will affect WiFi performance. The bandwidth is divided between all devices using the Internet. The more devices that are connected to the Internet, the smaller portion of speed is distributed to each device. You can boost your Internet speeds by limiting the quantity of devices connected to your network.
3. Can your device handle the speed?
Some devices can't support higher speeds – which slows down all your other devices! To see what speeds your device can support, check the owner's manual or perform a web search using its model number.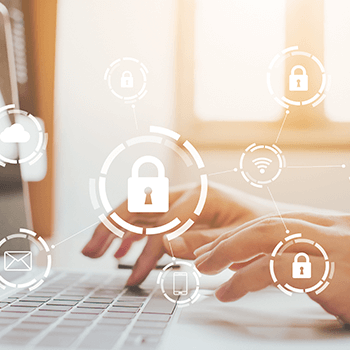 4. Clean your devices
Most routers will slow down to the speed of your slowest device, so it's important to give your device a regular check-up to protect and boost your connection. Over time, your smartphone, laptop and tablet's performance will slow down. There are a few ways you can keep your devices clean to optimize speed:
Run regular virus scans.
Periodically clear browsers and cookies. Search the web for a guide to clearing cookies on your specific device.
Keep your router's firmware up-to-date. Check the manufacturer's website for notifications about updates.
5. Protect your WiFi
Require a password to join your network, so you can protect your connection from malicious cyber threats or neighbors adding their devices to your broadband. Remember, your speed is shared by all devices. If your neighbors are using your WiFi, they're using your speed, too.
Looking for Internet Security Tips? Check out these tips for staying safe online.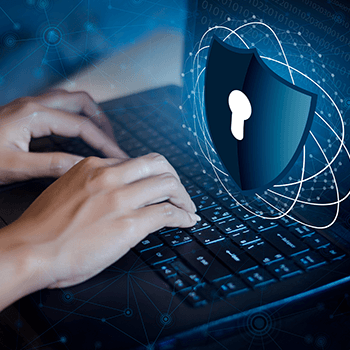 6. Expand your WiFi
As you introduce more devices to your WiFi network, it may be time to re-evaluate the optimal Internet speed for your family's connected lifestyle. Whole Home WiFi allows you to customize or expand your WiFi by adding as many routers as you need. You can cover a home of any size or shape.
Wired vs. Wireless Speeds
Learn the benefits of a wired Internet connection and the differences when going wireless.
Protecting your Wi-Fi connection
Securing your wireless connection and choosing the right browser helps improve your WiFi experience.
Frequently asked questions
Disclaimers
*Internet download speeds may vary and are not guaranteed. Observed speeds may vary based on device connection & other factors outside of Astound's control. Gig Internet offers speeds up to 940 Mbps and certain equipment may be required. All advertised speeds are up to the stated speeds and are not guaranteed; speed may vary due to conditions outside of network control, including customer location, sites accessed, number of devices connected, customer usage, customer equipment and computer configuration, the level of overall traffic, and customer compliance with Astound usage policies set forth in the acceptable usage policy. See astound.com/yourspeed for why speeds may vary. Our FCC Network Management Disclosure makes available information regarding our network management practices and the performance and commercial terms of our Internet access services to enable you to make informed choices regarding the purchase and use of our services, in accordance with Part 8 of the Rules of the Federal Communications Commission (FCC). Modem required for internet service. We substantiate that the cable modem equipment provided, and the configuration of such cable modem, meets the broadband speeds advertised when attached to a wired connection based on SamKnows testing procedures.
Not all services, speeds, packages, equipment, channels, tiers, pricing, streaming services, product offerings and product features are available in all areas. Offers valid only for new residential customers or previous customers with account in good standing who have not had our service within the last 60 days. All names, logos, images and service marks are property of their respective owners. Other restrictions may apply.
Whole Home WiFi: Activation and installation not included. Up to $11.95 per month includes 1 eero base and 1 eero beacon/device. Each additional eero device beyond that is $5.00 per month, per device. © 2022 EERO LLC, SAN FRANCISCO, CA