How to manage your account online
In this article, we'll show you how to manage your account via the Astound Mobile website. It's simple and easy.

Track data usage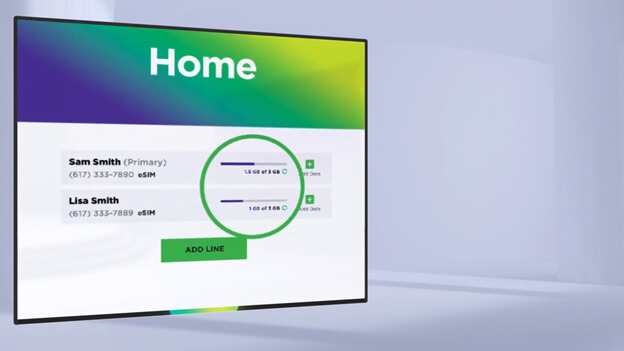 Change your plan as needed—keep in mind, you aren't stuck with a one-size-fits-all plan.
If your data is running out, we'll give you a heads up so you can log on and make a change.
Add data as your needs change
Watch a lot of videos on the go? Going to be without WiFi for a while? No problem!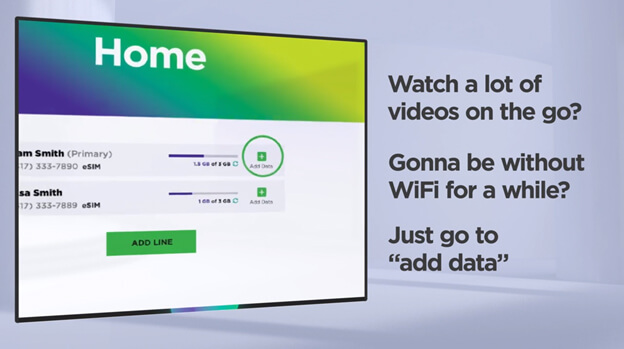 Just go to "Add data" to add more data to your current plan.
Guess what? You can also use this data for mobile hotspot use.
Go to Services tab for travel needs
Doing some traveling?
Go to Services to use your service for Domestic Roaming, abroad or to make an international call.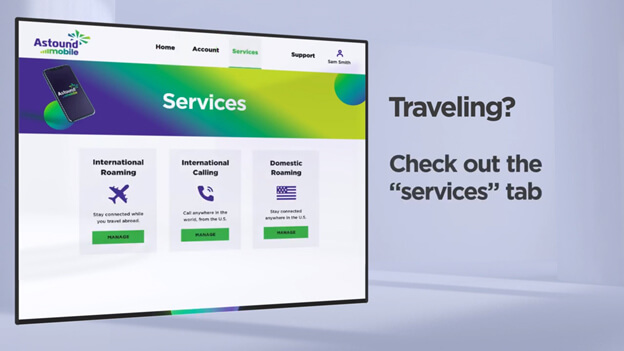 You can view all your transactions here if you're managing multiple accounts.
Switch between lines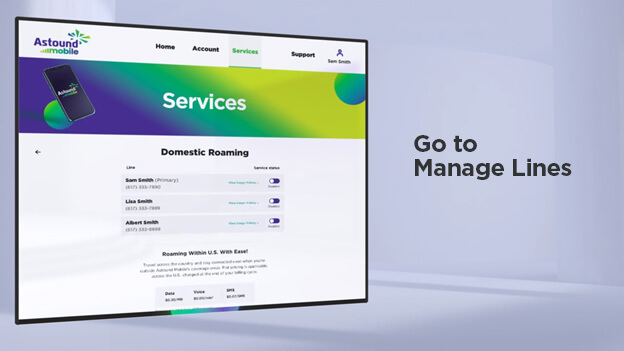 Go to Manage Lines to switch between your lines.
Go to Account tab to manage up to 5 lines
You can manage up to five lines in one place and adjust the data plans as needed.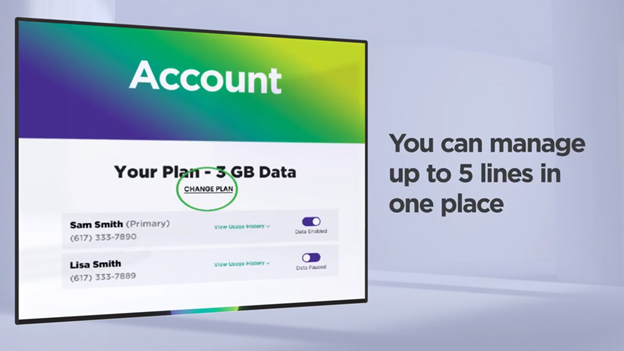 If you're the group owner or the Primary line holder you can see requests and alerts for each member of your group, track monthly usage, and renew each plan.
Looking for something else?
Disclaimers
Astound Mobile requires Astound Internet service. Coverage not available in all areas. A trademark of Ziff Davis, LLC. Used under license. Reprinted with permission. Where available. © 2022 Ziff Davis, LLC. All Rights Reserved. All names, logos, images and service marks are property of their respective owners. ©2023 Astound Broadband. All rights reserved.
This website contains instructional information, including from third-party sources, and is intended, but cannot be guaranteed, to be always up-to-date, complete and accurate. Astound does not endorse, and is not responsible for, any third-party content that may be accessed through this website. Any representation or warranty by Astound that might be otherwise implied by information on this website is expressly disclaimed. Astound expressly disclaims all liability or responsibility with respect to actions taken or not taken based on any or all of the instructional information contained on this website. Astound does not warrant or guarantee the availability of any services at any specific time or geographic location or that services will be provided without interruption. Not all aspects of the Astound services function on all equipment and devices. Use of this website is subject to the Web Site Disclaimer and Web Content Accessibility Policy.