How Do Programming Costs Work?
The price that a consumer pays each month for a video service is driven largely by the costs that distributors like RCN must pay to the companies that create or package the programming – the networks.
That's right – TV providers pay a fee for every household that receives that package, regardless of whether anyone in that household watches the network.
Those networks set certain rules for how their shows and networks can be sold to end consumers, including which packages can contain their channels.
The Truth about Channel Negotiations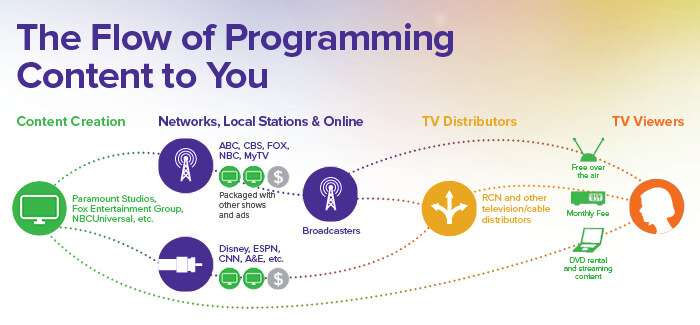 In the past, the fees paid by companies like RCN to distribute cable networks (like Discovery, Viacom, AMC, ESPN, Fox Sports, etc.) were set in private business negotiations. Customers rarely knew those negotiations were taking place. However, fees have risen higher and higher recently, forcing distributors like RCN to take a stand.
At the same time, local broadcast stations have begun demanding significant fees to carry programming that they offer for free over-the-air and via the Internet. We don't think it's fair to make customers pay for programming that others receive for free.
In the past few years, many TV providers, like RCN, have taken a stand against unreasonable fee increases demanded by both cable networks and local broadcast TV stations. We are pushing back against Networks that demand exorbitantly more money without delivering more value.
Sometimes that result is a public dispute, with both sides using TV, e-mail, and other communications vehicles to tell their side of the story. And customers are caught in the middle. While RCN does not like public disputes, we are committed to delivering the best value for our customers and doing all we can to minimize the excessive increases being demanded.
Retransmission Consent & Programming Contract Renewal are a National Issue.
Retransmission and programming fee disputes have become a national issue, not just isolated to any one TV provider. Many TV providers have had public disputes with networks and station owners. In 2013, CBS and Showtime were removed from Time Warner's channel line-ups for one month as a result of fee dispute. This year alone, Dish Network no longer carries Turner Network programs and both Suddenlink and Cable One no longer carry Viacom Networks as a result of the same kind of fee dispute. Disputes leave consumers without their favorite programming or an increase in their bills. Cable companies have to either pass on huge increases to their customers or risk TV blackouts. These disruptions are an industry-wide problem. No TV provider is immune.
Retransmission Consent vs. Contract Renewal - What is the Difference?
These terms describe essentially the same thing. A renewal is the process that happens when the owner of a network or group of networks negotiates a new contract with a TV service provider like RCN. Retransmission consent is the legal term for the process that happens when the owner of an over-the-air broadcasting TV station or group of TV stations negotiates a contract with a TV service provider for carriage.
What is Retransmission Consent?
Retransmission consent refers to a provision of the 1992 United States Cable Television Protection and Competition Act that requires TV providers to obtain permission from broadcasters before carrying their programming. In exchange, a broadcaster may propose that the operator pay cash to carry the station or ask for any other form of consideration. The cable operator may refuse the broadcaster's proposal and the broadcaster can withhold permission for the cable operator to carry the programming. It boils down to a negotiation to arrive at an agreement.
Broadcast TV stations distribute their signals over the air, using free spectrum granted to them by the federal government. In effect, taxpayers subsidize the distribution of broadcast TV signals. These same broadcast TV stations are then allowed by the government to charge TV providers for their signals — and if we don't agree to pay, broadcasters will remove their channels from our lineup. Without the written consent of the local broadcast station ownership, TV providers are not allowed by law to carry those signals.
This is an unfortunate tactic that network owners use to gain leverage in their negotiations. It's an attempt to pressure and coerce TV providers into accepting the outrageous increases. What's more, before and after they remove channels, they may ask you to call and/or email your TV service provider in an attempt to put pressure on the provider to cave in to the network owners' excessive fee increases.
Twenty years later, the competitive environment for video distributors has changed dramatically. Companies that own the local broadcast TV stations are increasingly imposing huge demands for cash that drive up a cable, satellite, or telephone company's costs of doing business, and this pricing affects you.
Disclaimers
Not all services, speeds, packages, equipment, channels, tiers, pricing, streaming services, product offerings and product features are available in all areas. Offers valid only for new residential customers or previous customers with account in good standing who have not had our service within the last 60 days. All names, logos, images and service marks are property of their respective owners. Other restrictions may apply.