How to create a MyAstound account
Let's get you started
Access your customer account online with these easy steps.
Note: the images provided are for demonstration only and any specific services shown are subject to local availability.
Please contact us if you have any questions!
Steps to create your new account:
Set up your MyAstound account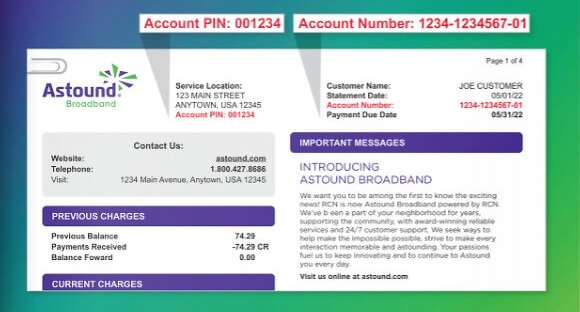 Step 1: Find account number and pin
Have your most recent bill from Astound Broadband on hand. Find your account number and your new pin at the top.
Note: your original account number will work to log into your new online account so you can use an old bill, if needed.
---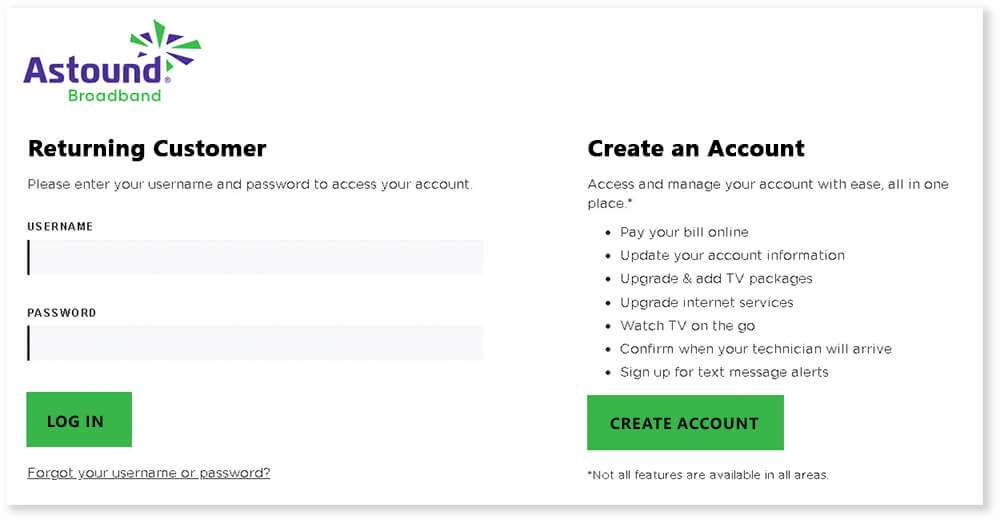 Step 2: Create account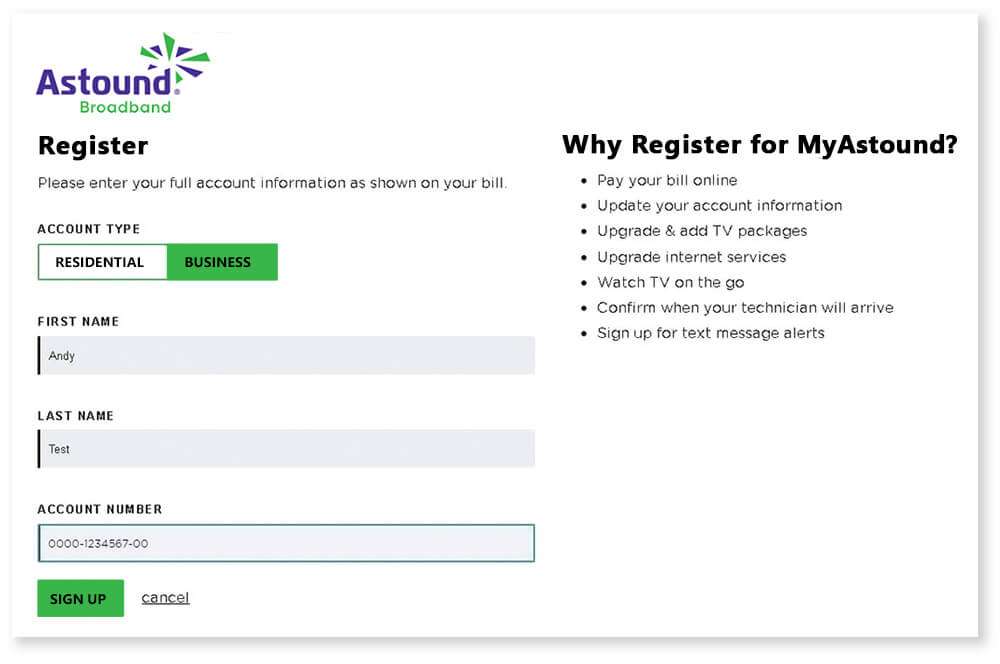 Step 3: Account type and details
Select the Account Type and enter your name and account number.
Then tap "Sign up".
Note: your original account number will work here so you can use an old bill, if needed.
---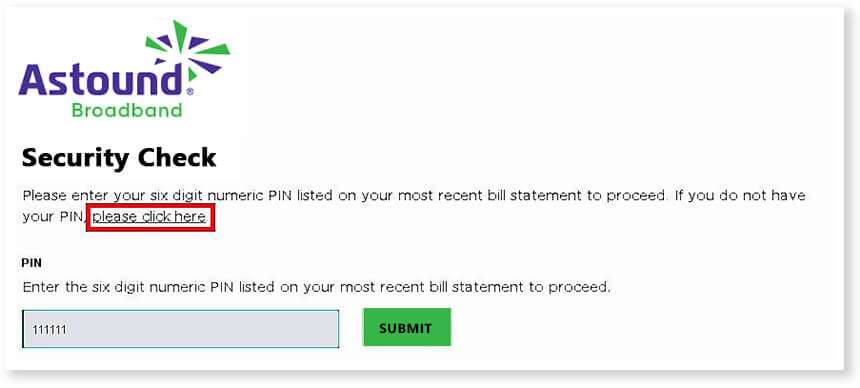 Step 4: Enter your pin or request a pin
You will be prompted to enter your pin. Your pin can be found on your Astound bill or you can tap "please click here" and have a temporary access token emailed to you.
If you DO have your pin
Enter the pin and tap "Submit."
If you DON'T have your pin
You can request an email to yourself to gain access to your online account. Your temporary access token will be sent shortly to the primary email address you had on file. Your primary email address may be: @gmail.com, @hotmail.com, etc.
If you don't have an email address on file, you can:
Request a letter be sent to your home
Call 1-800-427-8686
Chat with us online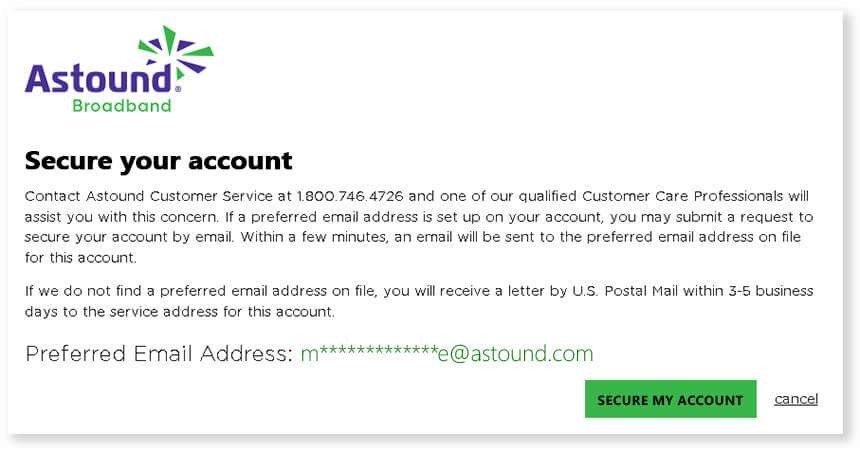 The email you receive will provides a temporary token to securely set up your account. Tap on the "Secure Account Link" line in this email and you will be taken to the account retrieval form.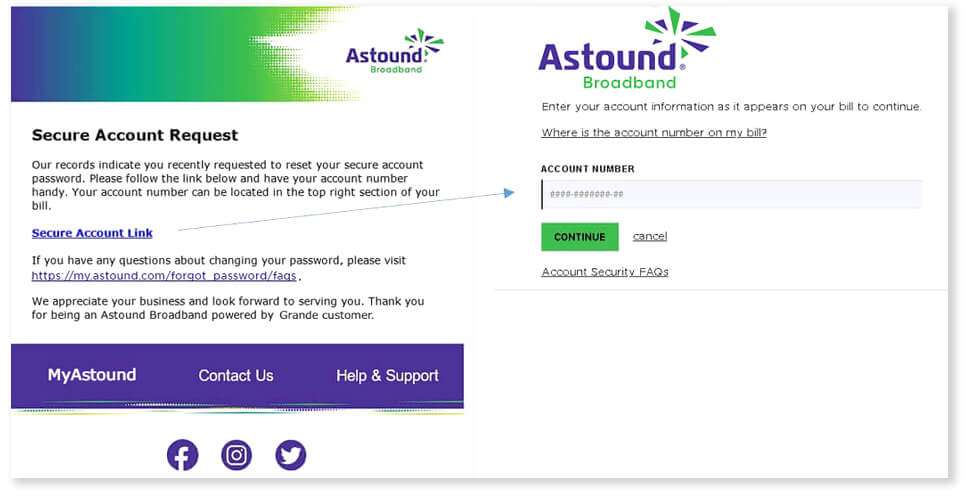 Enter your account number, tap "Continue", and you will be automatically logged in.
---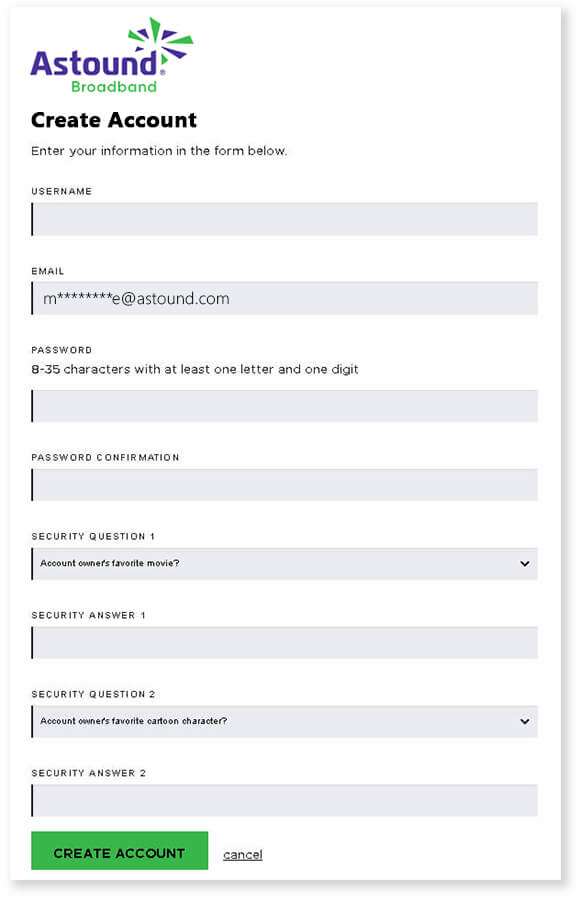 Step 5: Finalize account creation
Lastly, enter the information to finalize your account setup. Choose your preferred username and password, then enter answers to security questions.
Tap "Create Account".
---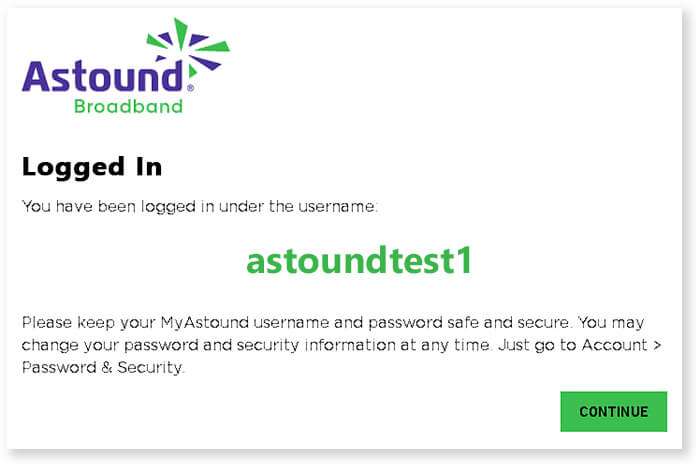 Step 6: Verify and complete account info
Success! You have created your MyAstound account.
Be sure to make note of your username and password for future login, then tap "Continue".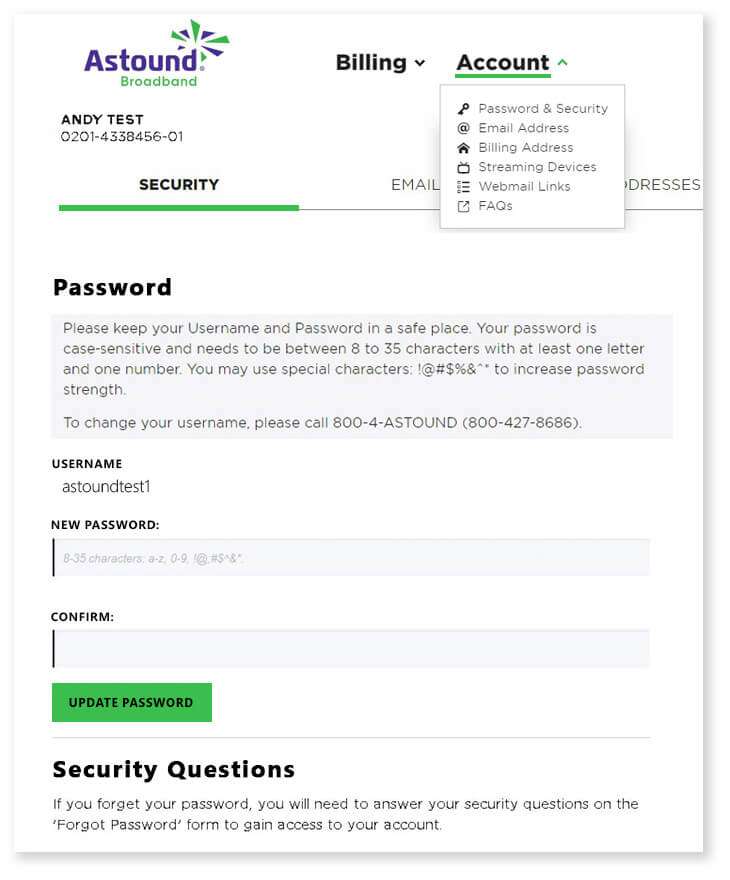 Finish: Once you tap the Continue button, you will automatically be logged into your account. Within MyAstound, you can verify your information, make account changes, pay your bill, and more.
Find your account credentials under "Account > Password & Security".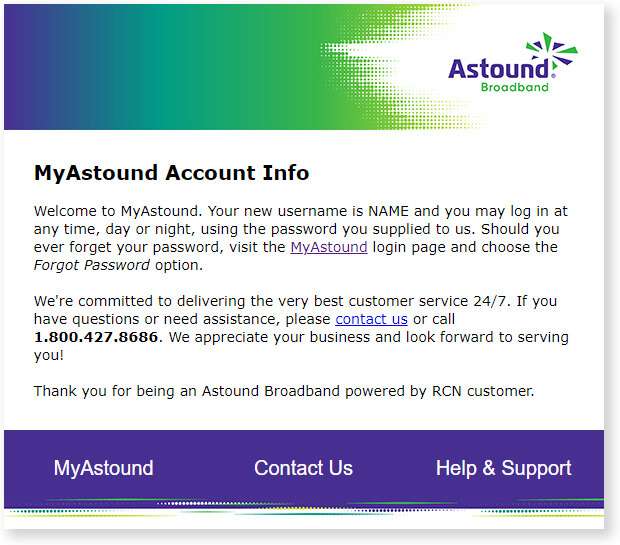 Confirmation: You'll receive an email confirming your account details. You may wish to file this email for your records.
Now that you have a MyAstound account you can pay your bill online and update your account information. You will be able to watch TV on the go, and select internet and TV packages that best fit your needs.
To keep up on the status of your service, you can opt in to receive text message alerts through your account, as well as confirm technician arrival time.

Welcome to Astound Broadband!
Looking for something else?
Check out the Support Center for all billing help and support-related information.
Disclaimers
*Internet download speeds may vary and are not guaranteed. Certain equipment may be required to receive advertised speeds. Observed speeds may vary based on device connection & other factors outside of Astound's control. All advertised speeds are up to the stated speeds and are not guaranteed; speed may vary due to conditions outside of network control, including customer location, sites accessed, number of devices connected, customer usage, customer equipment and computer configuration, the level of overall traffic, and customer compliance with Astound usage policies set forth in the acceptable usage policy. See astound.com/yourspeed for why speeds may vary. Our FCC Network Management Disclosure makes available information regarding our network management practices and the performance and commercial terms of our Internet access services to enable you to make informed choices regarding the purchase and use of our services, in accordance with Part 8 of the Rules of the Federal Communications Commission (FCC). Modem required for internet service. We substantiate that the cable modem equipment provided, and the configuration of such cable modem, meets the broadband speeds advertised when attached to a wired connection based on SamKnows testing procedures.
Not all services, speeds, packages, equipment, channels, tiers, pricing, streaming services, product offerings and product features are available in all areas. Offers valid only for new residential customers or previous customers with account in good standing who have not had our service within the last 60 days. All names, logos, images and service marks are property of their respective owners. Other restrictions may apply.
While we have made every attempt to ensure that the information contained in this site has been obtained from reliable sources, Astound Broadband is not responsible for any errors or omissions, or for the results obtained from the use of this information. All information in this site is provided "as is", with no guarantee of completeness, accuracy, timeliness and without warranty of any kind, express or implied, including, but not limited to warranties of performance, merchantability and fitness for a particular purpose. Certain links in this site connect to other websites maintained by third parties over whom Astound Broadband has no control. Astound Broadband makes no representations as to the accuracy or any other aspect of information contained in other websites.