Instalación tan pronto como hoy!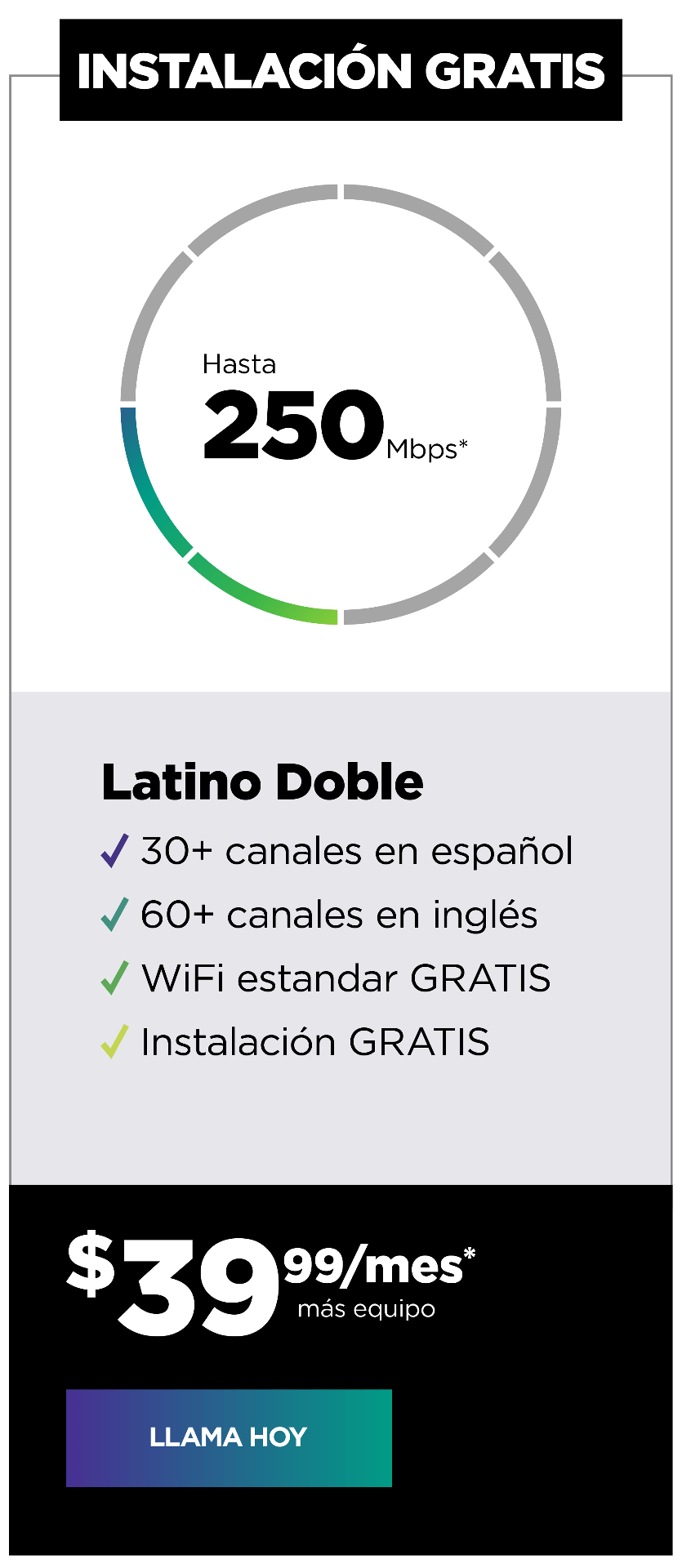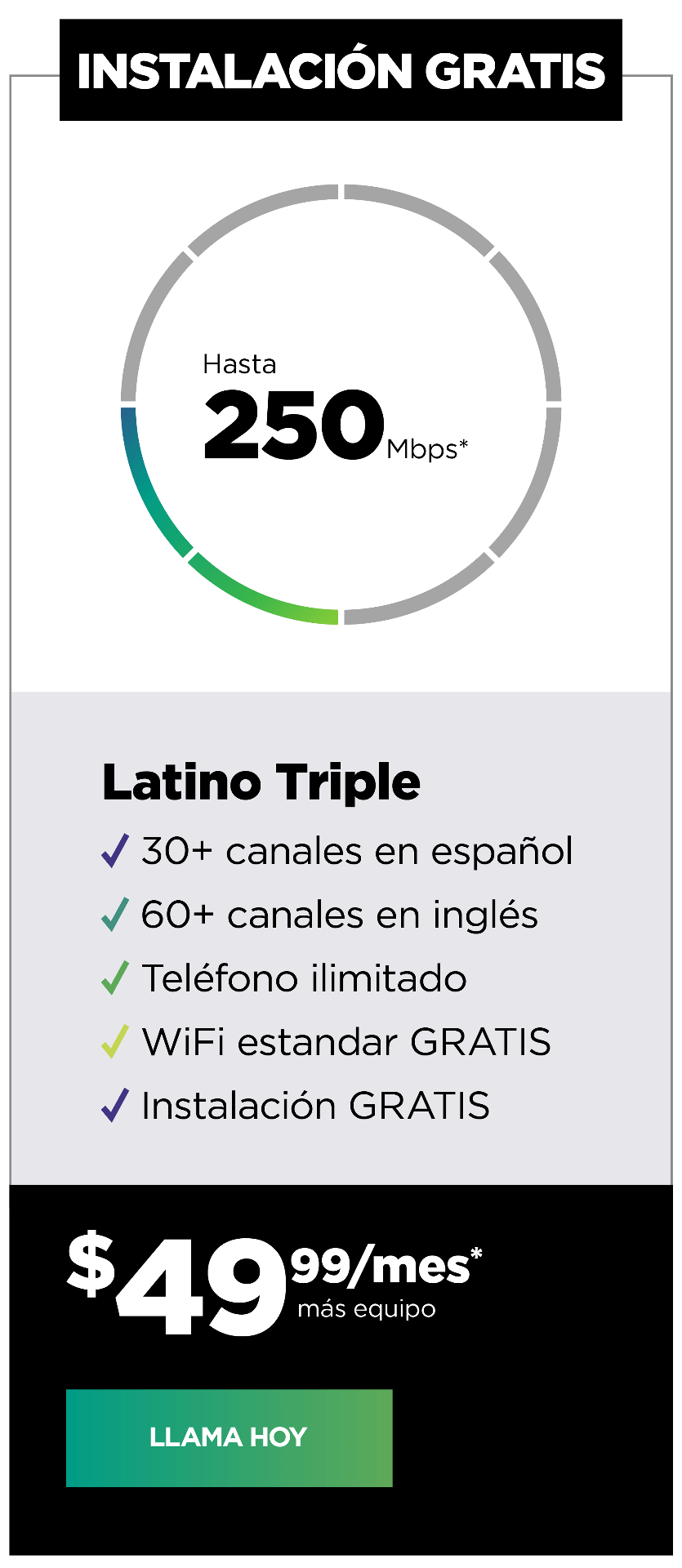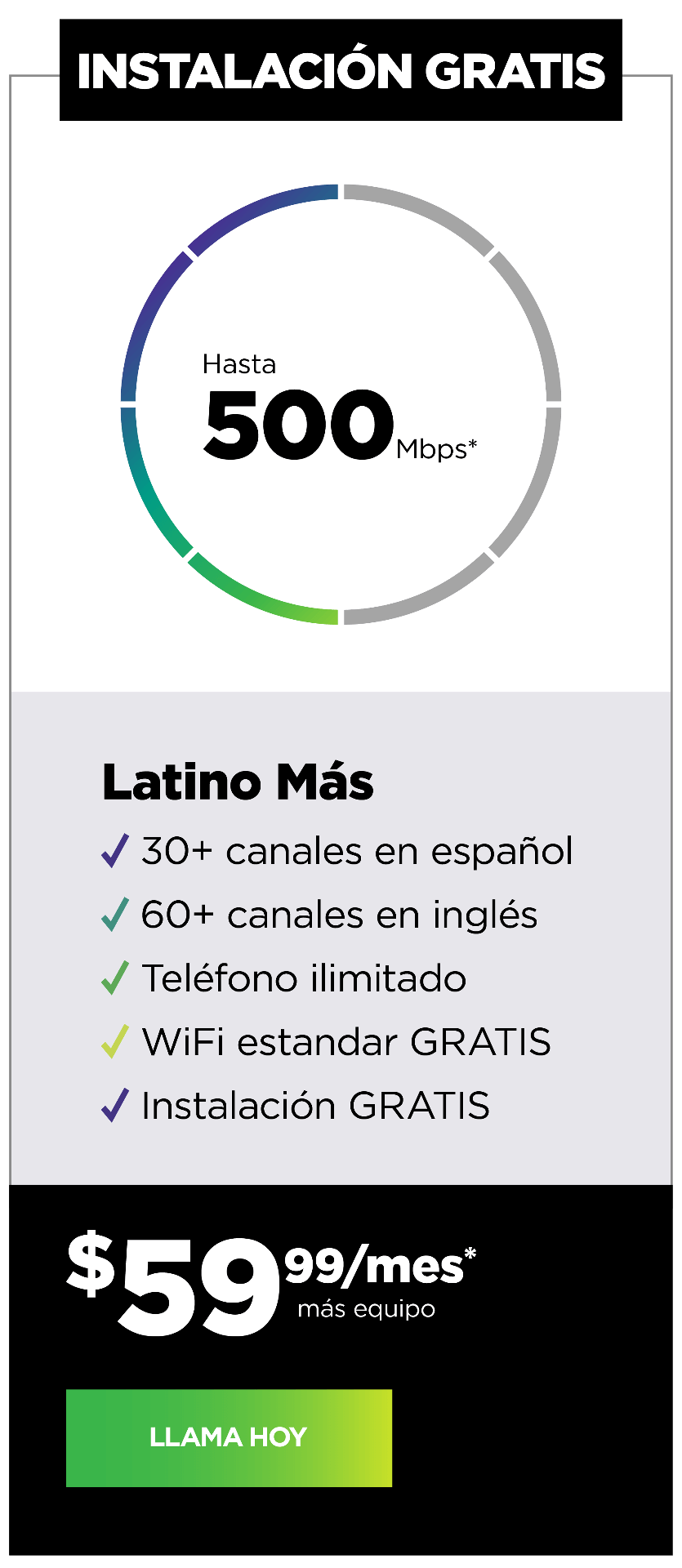 Llama al 866-540-1569
*La velocidad en cada aparato puede variar
**Precio inluye pago automatico y facturas electronicas
Televisión
Todos tus canales y programas favoritos en español e inglés, películas On Demand y mucho más
Disfruta tus programas favoritos en vivo y haz streaming desde una sola caja y un solo control.
Con MiVisión disfrutarás junto a tu familia más de 30 canales en español.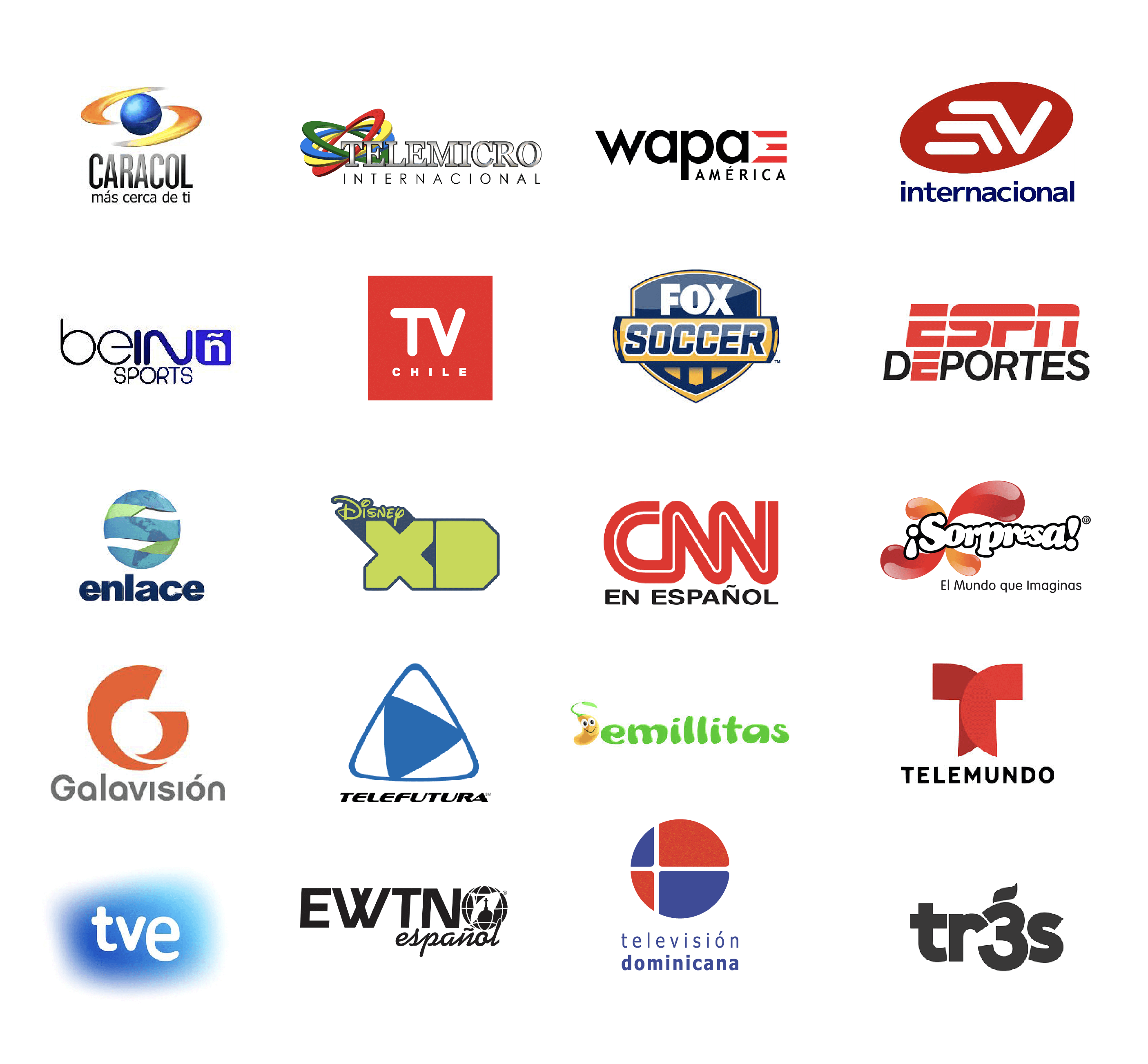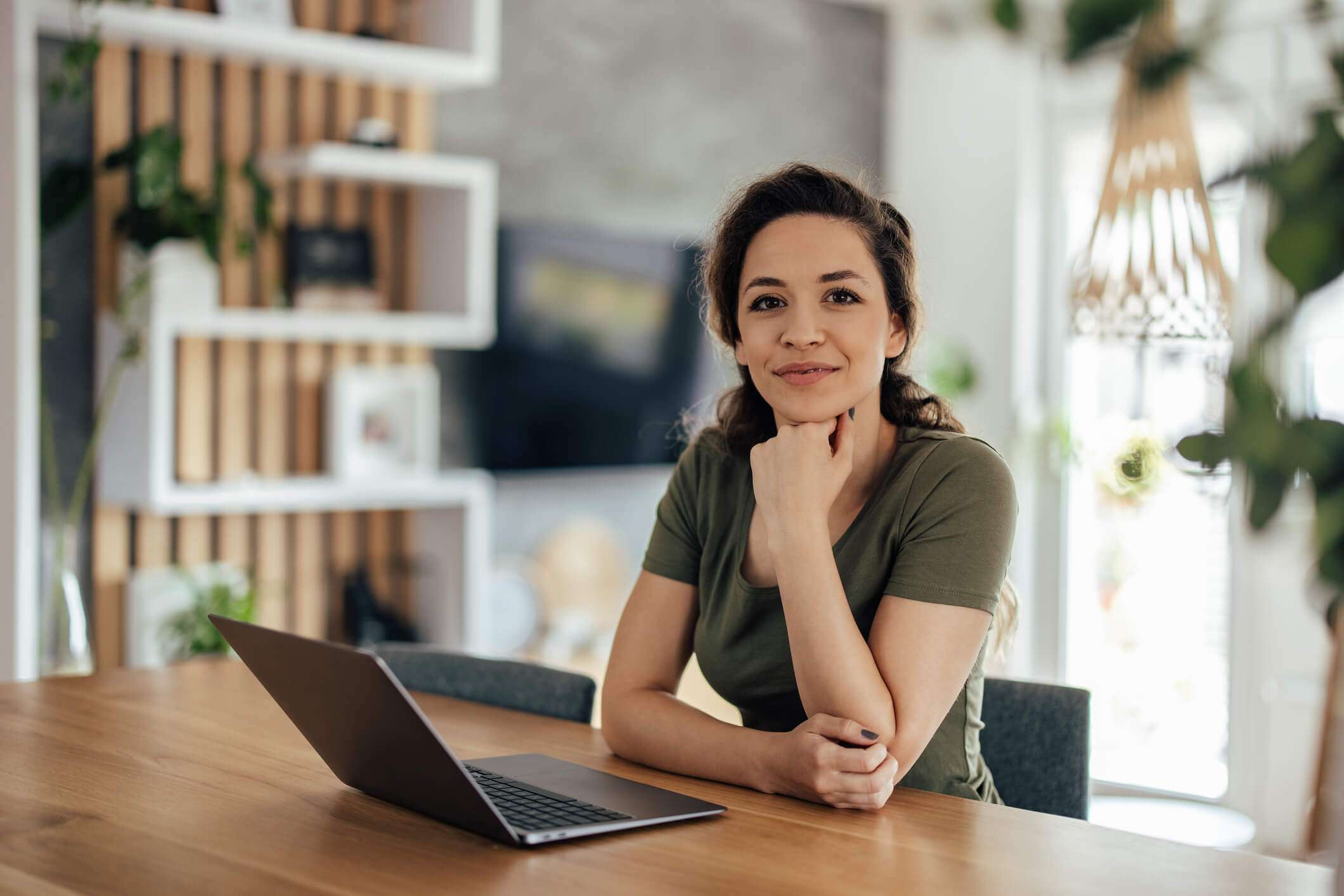 Internet
Disfruta una conexión súper veloz que te permitirá chatear, jugar en línea, subir fotos y ver videos ¡sin problemas!
Toda la familia podrá estar conectada desde diferentes dispositivos a la vez.
Teléfono
Habla sin parar con llamadas ilimitadas en los Estados Unidos, Canadá, las Islas Vírgenes de los EE. UU. y Puerto Rico.
¿Deseas llamadas internacionales? Pregúntanos sobre el servicio Mi Teléfono y disfrutaras de llamadas internacionales a 23 países de Latinoamérica y España.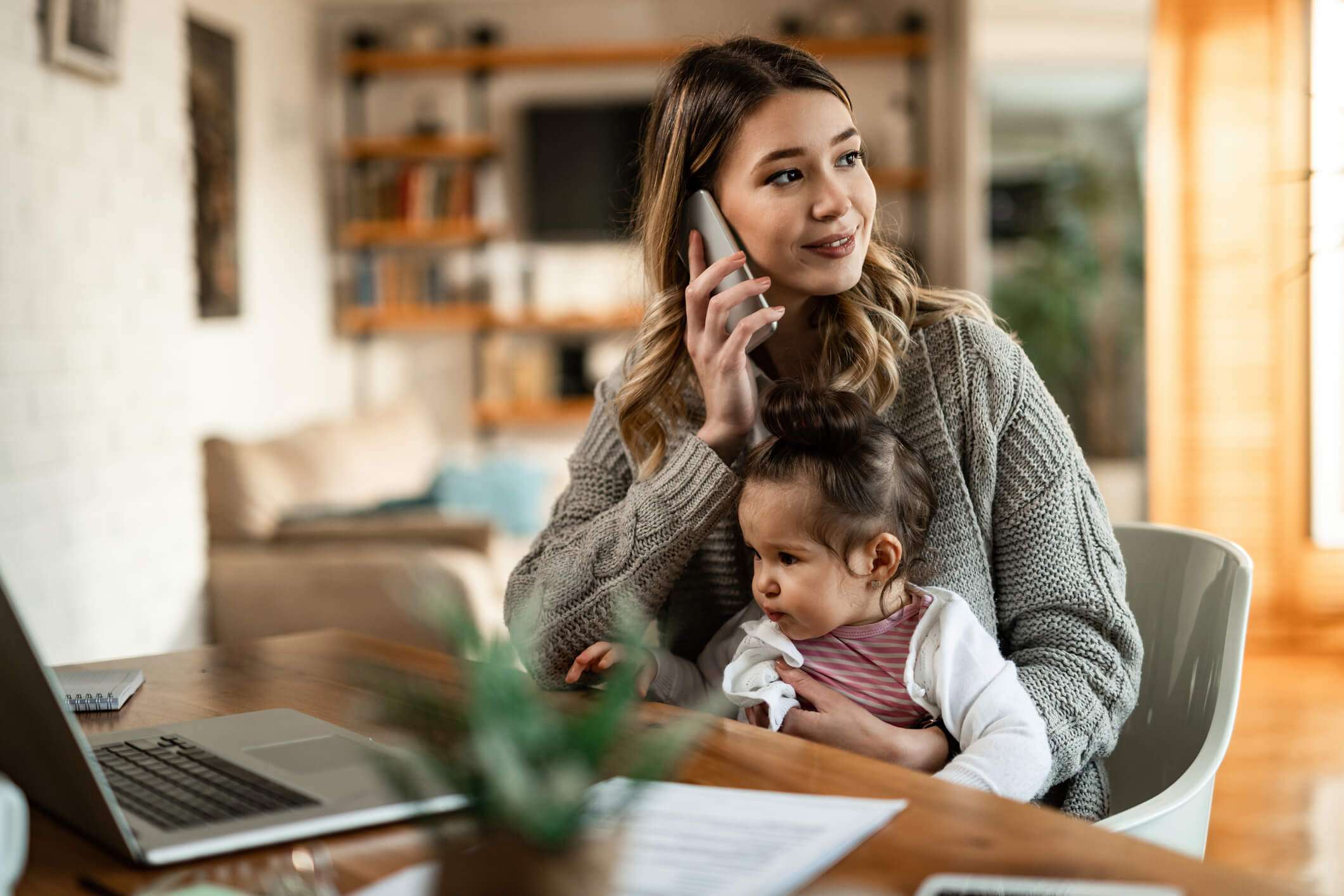 Disclaimers
*Las velocidades para descargas de Internet pueden variar y no están garantizadas. Ciertos dispositivos pueden ser necesarios para obtener las velocidades indicadas en el anuncio. Las velocidades observadas pueden variar en base a la conexión del dispositivo y otros factores que están fuera del control de Astound. Todas las velocidades indicadas en el anuncio son las velocidades máximas obtenibles y no están garantizadas; La velocidad puede variar debido a condiciones que están fuera del control de la red, esto incluye la ubicación del cliente, los sitios a los que accedió, el número de dispositivos que hayan conectados, el uso del cliente, la configuración del equipo y de la computadora del cliente, el nivel general de tráfico y que el cliente cumpla con las políticas de uso de Astound establecidas en la política de uso aceptable. Para conocer las razones por las que pueden variar las velocidades consulte a astound.com/yourspeed. Nuestra Declaración de la FCC para la Administración de las Redes ofrece información sobre nuestras prácticas de administración de redes y los términos comerciales y del desempeño de nuestros servicios de acceso a Internet para permitirle tomar decisiones informadas con respecto a la compra y el uso de nuestros servicios, de acuerdo con la Parte 8 del Reglamento de la Comisión Federal de Comunicaciones (FCC, por sus siglas en inglés). Se requiere un módem para el servicio de Internet. Corroboramos que cuando se utiliza a una conexión por cable en base a los procedimientos de validación de SamKnows, el equipo de cable módem que se provee y la configuración de dicho cable módem cumplen con las velocidades de banda ancha que se indican en el anuncio.
Non-standard installation may require additional outlet and special wiring fees. Any additional services, such as equipment, premium channels and other tiers of service are subject to an additional charge and regular increases.