Win Your Oscars® Pool
Become an Oscars® expert by doing your homework. Catch this year's nominees and revisit past winners on Netflix, Amazon Prime, Hulu*, and HBO Max before the Academy Awards® Ceremony on March 27th.
*Compatible TiVo box, internet service and Hulu membership required.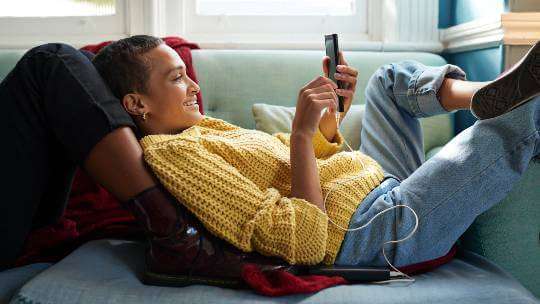 Stream on Mobile Devices
Watch on the ABC mobile app.
Must be signed into your TV/Cable Subscription to stream live TV on the mobile app.
The Power of the Dog
Nominated for 12 Academy Awards®, including Best Picture and Best Director, Benedict Cumberbatch (nominated for Best Actor) plays a cruel rancher who torments his new sister-in-law (Kirsten Dunst) and her son.
Don't Look Up
This dark comedy about two scientists (Leonardo DiCaprio and Jennifer Lawrence) desperately trying to warn the world of an impending Armageddon is in the running for Best Picture, Original Screenplay and two technical awards.
Tick, Tick...BOOM!
Andrew Garfield is nominated for Best Actor in a Leading Role for his turn as Jonathan Larson, the creator of Rent, in this Lin-Manuel Miranda directed musical that is also nominated for Film Editing.
The Lost Daughter
Olivia Coleman earns a Best Actress in a Leading Role nomination for this movie about a vacationing woman who becomes obsessed with a young mother. The film also grabbed Best Supporting Actress and Adapted Screenplay nominations.
Nightmare Alley
Guillermo del Toro directs this dark tale of a manipulative carny (Bradley Cooper) who partners with a psychiatrist (Cate Blanchett); it snagged Best Picture, Cinematography, Production, and Costume Design noms.
The Eyes of Tammy Faye
Jessica Chastain is up for a Best Actress nomination for her portrayal of Tammy Faye, the televangelist who, with her husband, built the world's biggest religious broadcasting network. The movie is also an entry in the Makeup and Hairstyling category for recreating Tammy Faye's larger-than-life look.
Being the Ricardos
Nicole Kidman, Javier Bardem, and J.K. Simmons all earned acting nominations for this Aaron Sorkin-penned drama about a week in the life of Lucille Ball and Desi Arnaz.
Spencer
Featuring an uncanny performance as Princess Diana that earned Kristen Stewart a Best Actress nomination, this film imagines Christmas in Buckingham Palace for the royal couple just before their relationship completely dissolves.
Past Oscar® Winners
Watch these past Academy Award® Winners on Netflix, Amazon Prime, Hulu, and HBO Max.
Disclaimers
Availability of streaming content from third-party sources is subject to change and certain third-party fees may apply. Separate streaming membership is required for these services (and sold separately). Access to Amazon Prime Video, Netflix, Hulu, Sling TV, FuboTV and other streaming services requires compatible TiVo equipment and RCNWaveGrandeenTouch Internet service.
Not all services, speeds, packages, equipment, channels, tiers, pricing, streaming services, product offerings and product features are available in all areas. Offers valid only for new residential customers or previous customers with account in good standing who have not had our service within the last 60 days. All names, logos, images and service marks are property of their respective owners. Other restrictions may apply.
© 2023 Netflix. All rights reserved. Netflix is a registered trademark of Netflix, Inc. Netflix unlimited streaming membership is required.
© 2023 Hulu, LLC. Hulu subscription required. Hulu, the Hulu logo, and other Hulu marks, graphics, logos, scripts, and sounds are trademarks of Hulu, LLC. Compatible TiVo box, internet service and Hulu membership required.
© 2023 Amazon.com, Inc. All rights reserved. Amazon Prime Video requires a membership to Amazon Prime.
HBO®, CINEMAX® and related channels and service marks are the property of Home Box Office, Inc. HBO MAX™ is used under license. Minimum 3G connection is required for viewing on mobile devices. Some restrictions may apply. All devices, titles and related trademarks are property of their respective owners. For specific technical requirements for devices, go to hbomax.com/faq/#devices.
©A.M.P.A.S.®
All names, logos, images, and service marks are the property of their respective owners.  Not all services are available in all areas. Other restrictions may apply.  For more info visit Astound.com or call.