How to use dual SIM cards on your phone
Are you looking to streamline your personal and professional life? Are you a frequent international traveler and need to stay connected in multiple places while you're on the go?

Whatever your situation, using dual SIM cards on your phone can be a game-changer.
With the ability to have two different phone numbers and data plans in one device, you can easily manage your work and personal life or avoid expensive roaming fees when traveling.
We'll walk you through what you need to know about dual SIM cards and how to set them up.
What is dual SIM?
Dual SIM allows you to operate with two different active phone numbers. It makes your life easier when you want to combine your personal and business phones into a single device.
Dual SIM is also convenient for international lifestyles, allowing you to have a local number while keeping your primary number working when you're in another country.
When answering the question of what is dual SIM, it makes sense to quickly visit the difference between a traditional SIM card and an eSIM card.
An eSIM card is an embedded or digital SIM card built into your mobile device.
eSIMs are not removable like traditional physical SIM cards.
Most recent smartphones offer access to dual eSIM, so you don't have to worry about two physical SIM cards to swap in and out of your devices.
Some dual eSIMs allow you to switch between carriers and activate new plans with just a few taps on your device, depending on your contract and service plan.
This makes switching to a local carrier to save on roaming charges easier when you're traveling internationally.
You can also access different plans and promotions from other network providers, saving money on phone bills.
Benefits of dual SIM
Dual SIM card phones can be used to travel internationally, for separating personal and business numbers and more.
Separating personal and business
With dual SIM, you can use one SIM card for personal calls and another for business calls, separating your work and personal life more effectively.
International travel
In addition to allowing you to keep your original phone number active while accessing a local number, you can save money with dual SIM.
You can use one SIM for your home country's voice and data plan and the other for a local one in the country you are visiting, helping avoid expensive roaming charges.
Cost Savings
Accessing dual SIM allows you to take advantage of separate voice and data plans with different carriers, which can save money on your cell phone bill.
For example, you might find one carrier offering an inexpensive international voice plan and another offering an unlimited roaming data plan.
With Dual SIM, you can leverage both plans to save money.
You can access the inexpensive international voice plan with one phone number from one carrier and then use another phone number with another carrier to access an unlimited roaming data plan.
Network Coverage:
Some areas may have better coverage on one carrier over another.
For example, you might find yourself in an area with spotty voice coverage from one network provider, but another has strong voice coverage.
With dual SIM, you can access the carrier with higher-quality voice coverage while toggling back and forth between SIMs to take advantage of the coverage areas providing the strongest service.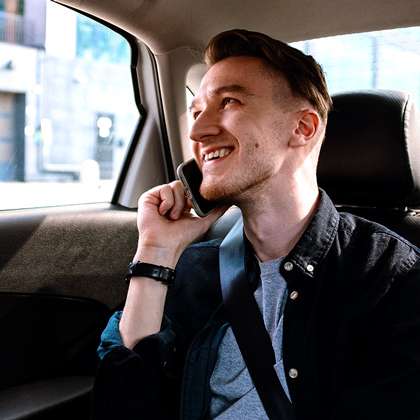 Increased flexibility
With a dual SIM, you can switch between SIMs easily without having to swap sim cards physically.
If you travel between countries frequently or if you must use different networks for different purposes, it's particularly beneficial.
Backup
You can also use dual SIM to backup data, designating one of your SIMs as a backup to free up storage on your phone.
While there are plenty of ways to back up your devices in the cloud these days, using SIM is an option if you don't have access to cloud backup services.

How to use dual SIM: Dual SIM settings
Setting up and using dual SIM for two active numbers on your phone is easy with most modern smartphones, including iPhone models and Android devices supporting Dual SIM.
Your phone must be unlocked and compatible with your carrier's network to use Dual SIM.
Once you have two active phone numbers, you can choose which number to use for calls, texts, and data.
Some phones even allow you to label your plans, so you can easily identify which number you are using.
If you want to set up your phone for dual SIM, you'll find it supported in the following ways on compatible smartphones:
Dual SIM support with eSIM
Some devices have a physical SIM card slot and an eSIM, which allows you to have two phone numbers on the same device without needing a physical SIM slot.
Multiple physical SIM slots
Devices with two physical SIM slots allow you to use two SIM cards simultaneously.
In this case, the device must have a built-in mechanism to manage two SIM cards, allowing you to choose one SIM for calls and texts and the other for data.
Dual SIM call forwarding
Some carriers allow two phone numbers to be used by forwarding calls from one SIM to another.
This method requires customers to have two separate phone lines and manage call forwarding settings manually.
Dual SIM roaming agreements
If you're traveling in another country, some carriers will give you access to a secondary new SIM card from a different network provider, allowing you to maintain your primary phone number while using a local provider for better coverage and more affordable local data rates.
Also, it's important to remember that wireless providers support dual SIM in different ways depending on their available technology and service plans.
Not all carriers and phones support dual SIM.
This is why it's a good idea to check out what options are available with your provider for dual SIM access and support.
Setting up a dual SIM on an iPhone
Setting up Dual SIM on your phone is easy and can be done in a few steps.
For dual SIM setting on an iPhone, follow these prompts: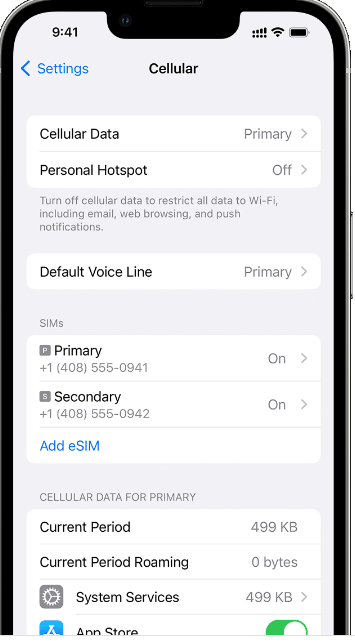 Go to Settings and then Cellular to see your primary and secondary numbers listed under SIMs.
To the right of the primary and secondary numbers, ensure both lines are turned On.
For cellular data, choose the default number.

Tap Cellular Data.
Then tap a line.

If you turn on Allow Cellular Data Switching, you can use either line depending on availability and coverage.

Tip: By enabling cellular data switching, you can incur data roaming fees if you're outside your network coverage area.

For voice calls, tap the default line. Then tap the number you want to be the default.
Once you have enabled the dual SIM setting, you can simultaneously receive calls and messages on both SIM cards.
You can also choose which SIM card to use when calling or sending a message.
Setting up a dual SIM on an Android
Using Dual SIM on your Android is a great way to manage your personal and work phone numbers on one device.
For dual SIM setting on an Android, follow these prompts with taps:
Access Settings, then tap Connections.
SIM card manager.
Choose the SIM card that you want to enable.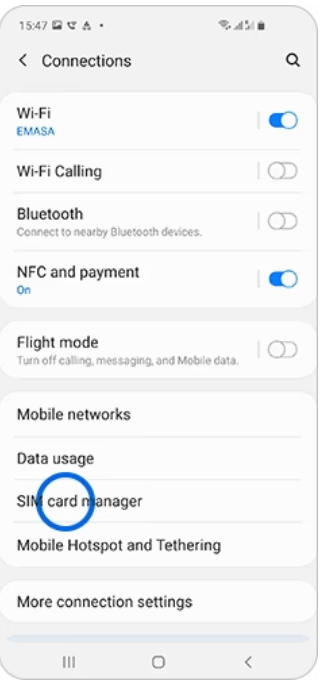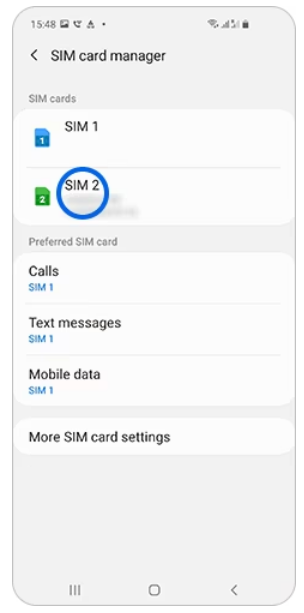 Toggle the switch ON to activate the SIM card.
Enter the SIM card name you want and tap Done.

Tip: You may want to name your SIM cards by the name of a specific carrier or label it as your work or home phone.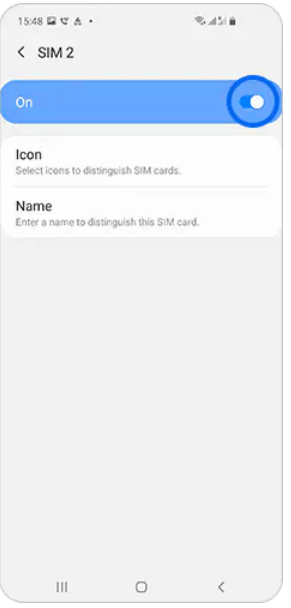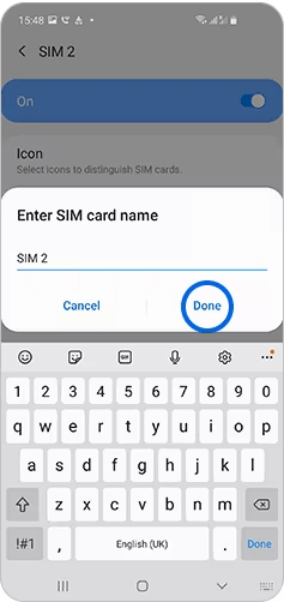 Select your icon preference to change the icon, then choose OK.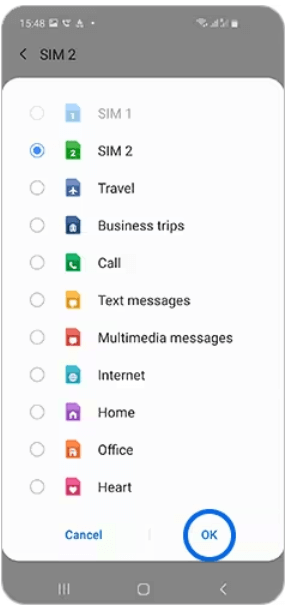 Leveraging dual SIM is an excellent option for anyone who wants to stay connected, save money, or improve their network coverage.
Whether you're a frequent traveler, a business owner, or someone who wants to keep their work and personal life separate, consider a dual SIM phone to give you more flexibility.
Save with Mobile & Internet Together
Get the mobile service, home internet & streaming that's just right for you.
Disclaimers
Astound Mobile requires Astound Internet service. Coverage not available in all areas. A trademark of Ziff Davis, LLC. Used under license. Reprinted with permission. Where available. © 2022 Ziff Davis, LLC. All Rights Reserved. All names, logos, images and service marks are property of their respective owners. ©2023 Astound Broadband. All rights reserved.
This website contains instructional information, including from third-party sources, and is intended, but cannot be guaranteed, to be always up-to-date, complete and accurate. Astound does not endorse, and is not responsible for, any third-party content that may be accessed through this website. Any representation or warranty by Astound that might be otherwise implied by information on this website is expressly disclaimed. Astound expressly disclaims all liability or responsibility with respect to actions taken or not taken based on any or all of the instructional information contained on this website. Astound does not warrant or guarantee the availability of any services at any specific time or geographic location or that services will be provided without interruption. Not all aspects of the Astound services function on all equipment and devices. Use of this website is subject to the Web Site Disclaimer and Web Content Accessibility Policy.