Learn how fees from networks and other costs affect your monthly bill.
We strive to provide the best TV choices, at a value that makes sense for you and your family. With Network fees dramatically increasing and impacting your monthly bill, we wanted to give you a backstage pass to better understand the economics of the TV business.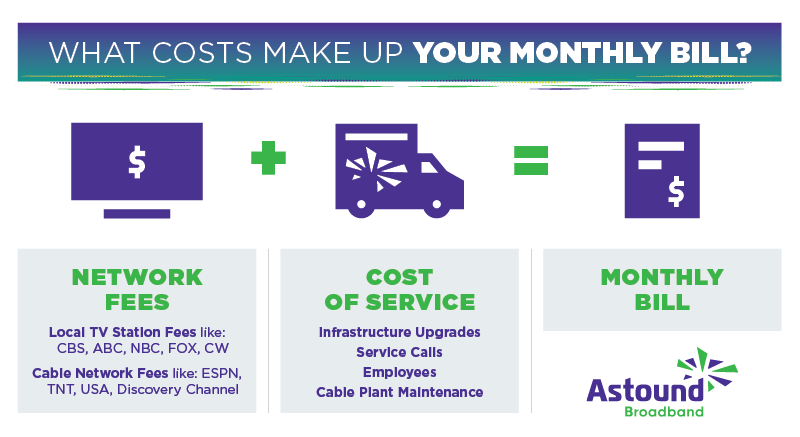 #1 Programming costs
All Cable and Satellite providers (TV providers) pay each Network owner (Programmer) a fee for every household that receives a particular Network – regardless of whether anyone in the household actually watches it.
These Network fees have increased dramatically at 3½ times the rate of inflation over the last 15 years1. Seven media companies control 90% of the Networks, and while we strive to keep these costs under control, they continue to use their power to demand more money2. Programmers are securing long-term contracts with significant guaranteed Network fee increases, regardless of how many people watch.
#2 Cost to provide service
Installation costs, maintaining and upgrading our network infrastructure and normal business expenses, such as employee salaries, rent and power are all included in the cost to provide service. The bulk of this portion of your bill is used to build a better Internet and entertainment experience – including faster Internet speeds, superior reliability and more advanced services over our wholly-owned, fiber-rich network.
The truth about channel negotiations
Disclaimers
Not all services, speeds, packages, equipment, channels, tiers, pricing, streaming services, product offerings and product features are available in all areas. Offers valid only for new residential customers or previous customers with account in good standing who have not had our service within the last 60 days. All names, logos, images and service marks are property of their respective owners. Other restrictions may apply.
1SNL Kagan
2Ben Bagdikian, The Media Monopoly