What are all the different SIM card sizes?
A SIM card is a small, portable plastic card with a smart chip attached to it that determines the mobile network you are currently connected to. Each mobile network provider issues a unique SIM card that includes their IMSI (International Mobile Subscriber Identity Number) and key.
A SIM card stores your personal information, such as your phone number, contacts, messages, and location.
Most phones include a slot where you can insert a SIM card.
This article will explore the various SIM card sizes and their differences. You will also learn how to check what kind of SIM card your phone requires and where to insert it.
Are all SIM cards the same size?
Most cell phones require a SIM card to connect to a cellular network and enable communication and internet access. However, not all SIM cards are the same size.
There are three different sizes of SIM cards:
Standard
Micro
Nano
Additionally, there are eSIMs, which are a newer SIM card technology.
The manufacturer and model of your phone will determine your device's proper SIM card size.
Standard and Micro SIM card types have the same chip size; the only difference is the plastic border around the chip.
You can purchase a SIM adapter to make sure all SIM cards fit your phone or use a SIM cutter to reduce the size of your SIM to make it fit if it's the wrong size.
Fortunately, many carriers issue universal SIM card kits with all SIM card sizes, so you can be sure you'll be able to find one that fits your phone.
SIM cards and their dimensions
| Type of SIM | SIM Card Dimensions |
| --- | --- |
| Standard | 15 x 25 mm |
| Micro | 12 x 15 mm |
| Nano | 8.8 x 12.3 mm |
Type of SIM

Standard

SIM Card Dimensions

15 x 25 mm

Type of SIM

Micro

SIM Card Dimensions

12 x 15 mm

Type of SIM

Nano

SIM Card Dimensions

8.8 x 12.3 mm
Some older cell phone models and devices that don't need to maximize their space still use the Standard SIM card.
Nano SIM cards are now the most widely used SIM size because they leave a cell phone (or other devices) with more space for adding additional features, like a larger battery, without increasing the phone's size.
What is a Standard SIM card?
The Standard SIM card, also known as the Mini SIM card, was introduced in 1996 and is the largest SIM type.
The Standard SIM card has dimensions of 25 mm by 15 mm.
Although it is referred to as "standard," it is rarely used today and is mainly present in very old phone models and feature phones because all current smartphones now include a Micro SIM or Nano SIM card slot.
Micro SIM vs. Nano SIM
Micro SIM
The Micro SIM card was introduced in 2003 and is 12 mm by 15 mm, smaller than the Standard SIM.
The iPhone 4 was the first smartphone to use a micro SIM card, and many other phones followed suit.
However, the Micro SIM is now less popular than the Nano SIM card.
A standard mini-SIM can be converted to a micro-SIM by cutting off its extra plastic border.
According to Money Saving Pro, Micro SIM cards are backward-compatible, meaning they can be converted and used in phones that support Standard SIM cards using a SIM adapter.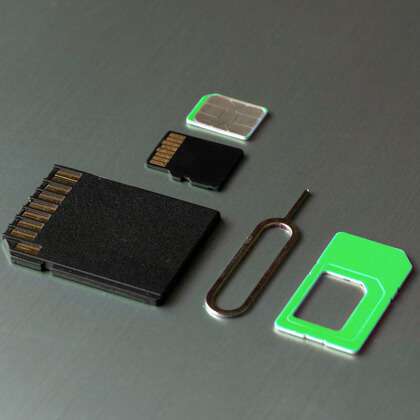 The Internet of Things (IoT) company Hologram states that Micro SIM cards are also used for machine-to-machine connectivity in mid-size IoT devices such as tablets and telehealth monitors.
Nano SIM
The Nano SIM was introduced in 2012 and is the smallest and most recent detachable SIM card version.
It's only 8.8 mm by 12.3 mm in size and there's very little plastic border around the chip.
In addition to being smaller, Nano SIM cards are thinner than Mini SIM and Micro SIM cards, making them perfect for modern phones that are constantly being made slimmer to save space.
Because of their thin nature, converting a Standard SIM or Micro SIM to a Nano SIM is challenging.
Apple's iPhone 5 introduced Nano SIM card trays, which are now the most common and widely used SIM size in new phones.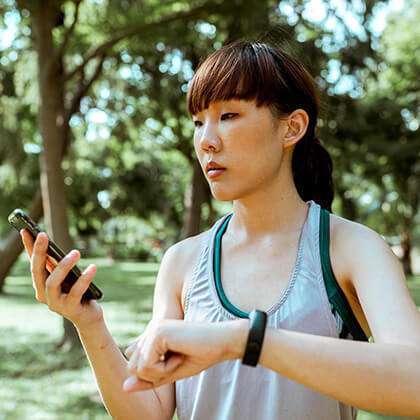 Other devices that use Nano SIM cards include IoT wearables such as fitness trackers, smart jewelry, and augmented and virtual reality headsets for online gaming.

eSIM vs. Nano SIM
An eSIM, or embedded SIM card, is a virtual, programmable SIM card embedded into your phone's motherboard. As a result, eSIMs are smaller than Nano SIM cards because they don't need a SIM tray or slot.
You can activate an eSIM digitally rather than purchasing a physical SIM card and inserting it into your phone to manually activate it.
eSIMs work just like physical SIM cards by securely connecting your phone to your network and granting you access to your service, allowing you to use your mobile plan.
You can easily install eSIM cards on your phone or device by scanning a QR code provided by your mobile carrier or downloading your eSIM profile through the carrier's application.
Benefits of eSIM
The main benefit of using eSIMs over Nano SIMs is the ability to use dual SIM cards, one physical and one eSIM, in your device.
Dual SIM cards enable people to have two different phone numbers, such as a work number and a personal number, or to use a foreign carrier's SIM card and your original number when traveling.
In addition, an eSIM makes it much simpler to switch mobile networks because you can make the change online or by contacting your carrier, rather than having to wait for a physical SIM card to arrive.
What kind of SIM card do I need?
Your mobile phone model will dictate what kind of SIM card you need. There are various ways to determine what type of SIM card your phone needs:
Checking your phone's user manual
Reviewing the technical specifications of your phone on the manufacturer's website
Removing the SIM card tray and measuring it
Most cell service providers recognize different phones are compatible with different SIM cards and offer a 3-in-1 SIM card.
The 3-in-1 SIM card is known as a "Combi SIM," with the Micro and Nano SIM sizes housed within the Standard SIM so you can simply pop out the one that fits your device.
In certain instances, there's no need to worry about adding a SIM card because some phones already have an eSIM preloaded.
However, this feature is only accessible on a few phone models.
Currently, eSIM cards are not available on a large scale and not all networks support eSIMs yet.
Some modern mobile phones like Apple's iPhone X and later models do support eSIMs.
The iPhone 14 model doesn't have a SIM tray at all and only supports eSIMs.
Samsung and Google also include eSIM support in their latest devices.

Where do I find the SIM card?
The location of the SIM card slot on the phone varies based on the device's make and model.
In most cases, the SIM card slot is positioned on the phone's side or back and is accessed by removing the SIM tray or cover.
Video tutorial: How to insert a SIM card in your Android phone
It is crucial to note that not all SIM cards work with all devices.
Customers should verify with their carrier or service provider if they have any questions or concerns about the correct size and type of SIM card for their phone.
Save with Mobile & Internet Together
Get the mobile service, home internet & streaming that's just right for you.
Disclaimers
Astound Mobile requires Astound Internet service. Coverage not available in all areas. A trademark of Ziff Davis, LLC. Used under license. Reprinted with permission. Where available. © 2022 Ziff Davis, LLC. All Rights Reserved. All names, logos, images and service marks are property of their respective owners. ©2023 Astound Broadband. All rights reserved.
This website contains instructional information, including from third-party sources, and is intended, but cannot be guaranteed, to be always up-to-date, complete and accurate. Astound does not endorse, and is not responsible for, any third-party content that may be accessed through this website. Any representation or warranty by Astound that might be otherwise implied by information on this website is expressly disclaimed. Astound expressly disclaims all liability or responsibility with respect to actions taken or not taken based on any or all of the instructional information contained on this website. Astound does not warrant or guarantee the availability of any services at any specific time or geographic location or that services will be provided without interruption. Not all aspects of the Astound services function on all equipment and devices. Use of this website is subject to the Web Site Disclaimer and Web Content Accessibility Policy.