Keith Groller is one of my heroes.
Seriously.
Let me explain…
I was covering Philadelphia pro sports teams in the early 90s and would frequently chat with him at the old Spectrum when he had the 76ers beat for the Morning Call. As many sports fans know, the Sixers' squads during this time period were some of the worst teams in modern day Philly sports. I was still thrilled to be covering pro sports teams for local radio stations, and thought I had a healthy jump on the "normal path to success" as a sportscaster by covering a pro team in a major market—even if the team was pathetic and the players were less-than-exhilarated to be interviewed each night on the new ways that they had discovered to LOSE games. Quite frankly, many players I interviewed showed little desire to play basketball—let alone deal with the same media members night in and night out.
Long story short. Keith did the unthinkable and committed what I thought at that time was career suicide by giving up his pro sports beat and instead, focused his work on high school sports. Once I got married and started to raise a family, I realized that Keith might actually be onto something, and that there were actually rewards to NOT covering pro sports. One of those advantages was the chance to deal with people who actually ASK a writer or broadcaster coming to their events. Subsequently, I found out that covering local sports gives you an opportunity to get to know and understand athletes on a much better level than the abrasive "stick-a-microphone-in-their-face" style of interviewing that is conducted with most major leaguers.
Enter the Schneiders.
Mike was…is…and may forever be one of the most helpful people on the planet. In numerous ways over the years, he's helped myself, as well as other media members, in ways too many to mention in one blog post. One of his many gifts was that of a coach and an educator, and one of his greatest "products" was his nephew, Brian, who this January retired from Major League baseball after an 18-year professional baseball career that included stops in New York, Washington, and even for his hometown Phillies. Ironically, he was also one of the first high school stars I had the good fortune to cover in my role as a 'non-pro sports' media guy, only to have him become one of the greatest MLB players who grew up here in Northampton County.
Through his experiences, which included playing for Hall of Famer Frank Robinson, being the catcher for Barry Bonds' record-breaking home run, playing in the World Baseball Classic, catching the greatest Phillies pitching rotation of all time, et al, he has continued to remain classy and speaks of great pride when he discusses his hometown of Northampton. He has continued to reach out to the community, donate his time to local charities and, as I learned from speaking with him, finds great rewards in trying to help young catchers and potential major league players by sharing his baseball wisdom. In a way, I felt like I had come full circle by having the pleasure of him being on our show to discuss his career, both on-and-off the field. Here's a clip of our "SportsTalk" show in which he discusses what it was like to catch the first ball thrown out by then-President George Bush at the first-ever Washington Nationals home baseball game: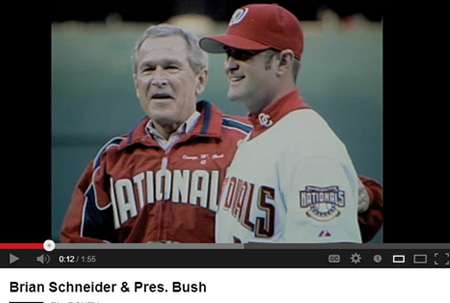 Brian also has developed a close relationship with one of the greatest players in Phillies history, Chase Utley. Ironically, Brian was in the locker room (as a visitor) and talked with Utley about his recent injury, just a few hours before Brian appeared on our show. We asked Brian about Chase's injured oblique, the truth about his sometimes "distant" persona with the media and whether Utley—a free agent after this season—would return to Philadelphia next year: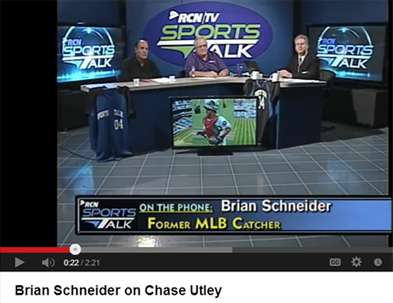 Thanks (AGAIN!) to Mike for helping us in setting up the interview (the entire show is available on RCN's video-on-demand for free for several weeks). Because of people like Mike and Brian Schneider and the professional way they conduct themselves as individuals, it can rejuvenate 'local' sports fans, in more ways than they can probably imagine.
Feel free to post comments about your memories of Brian as a amateur athlete from the Valley, and as a Major League ballplayer, and let us know if there's other "home grown" athletes you'd like to mention that "made it big."