After tackling the hot and sometimes laborious issues of local league realignments, super conference invitations, and sports politics the last several weeks (and something we'll have to address again very soon with a May 31st deadline on the horizon for the proposed MVC/LVC merger), I'd like to focus on one of the more refreshing aspects of this current high school sports spring season by discussing something that has become passé with many of today's athletes: fundamentals.
What's that? Some may say . . . especially those great athletes that play above the rim or score multiple touchdowns every week without much effort. It's something that older coaches will frequently preach, and even older, now retired sports veterans will say is severely lacking among today's sports stars. However, I think it's refreshing to see as I make my way around different schools and sports over the last several weeks, that I have not only seen younger coaches and managers stressing fundamentals to their kids, but the athletes themselves seem very proud of themselves for their repetitive work on basic skills. It's no surprise then that the teams that have worked hard on that aspect of their respective sport, find themselves among their league standings with just a few days remaining in the regular season.
Take Whitehall, for example.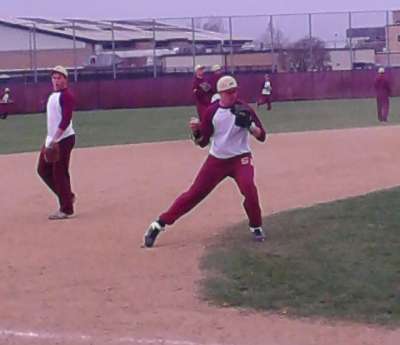 The Zephyrs, under third-year Manager Shaun O'Boyle, have bounced back from an average season a year ago to becoming one of the top teams in the area (if not the state) at this point. The first thing they worked on was getting a good lead off of first base. The second, taking the proper route on rounding third base. After another base running drill, they worked on their defense . . . and then they worked on their defense some more. Through most of their practice on this day, they did not have batting practice, but instead, worked on the mundane things that championship teams need to have. Upon speaking with the players, they all seemed to understand the importance of those skills and the need to continue to work on them to keep their season – one of the best in Whitehall history — going.
One of their top pitchers, Elliot Mortimer, threw just 53 pitches in 7-innings, which is impressive enough. Then you hear the mind-blowing stat that all but 8 pitches were STRIKES! He said he let his defense do their job, and it resulted in the team's 14th victory in 15 tries (against one of the better teams in the region) by a 14-1 score. Simple strategy, but effective.
The Zephs are not the only team spending more time on fundamentals, and they're not the only squad turning their fortunes around. The Wilson softball team (under Head Coach Sara Ulrich) reached their second playoffs—ever—in school history last year, and are looking to do the same again this spring. Teams such as the Warriors, Emmaus, Parkland, and Liberty baseball, Northampton softball, Parkland lacrosse and other organizations are being led by great young coaches who know the importance of fundamentals. Nearly every team I've seen while doing our "RCN SportsTalk: Time Out" features on local athletes and teams have been talking about the basics for their sport, and one of the first things they work on in their practices? Defensive drills.
What are your thoughts on this current spring sports season? Do you like the way teams are playing? And do you like the "defense wins championships" mantra that I've heard quite frequently mentioned by coaches and players alike this spring? Post a comment below and tune in for more features on our local teams and athletes on our "SportsTalk" show, every Thursday at 6pm (and available for free on RCN's video-on-demand).