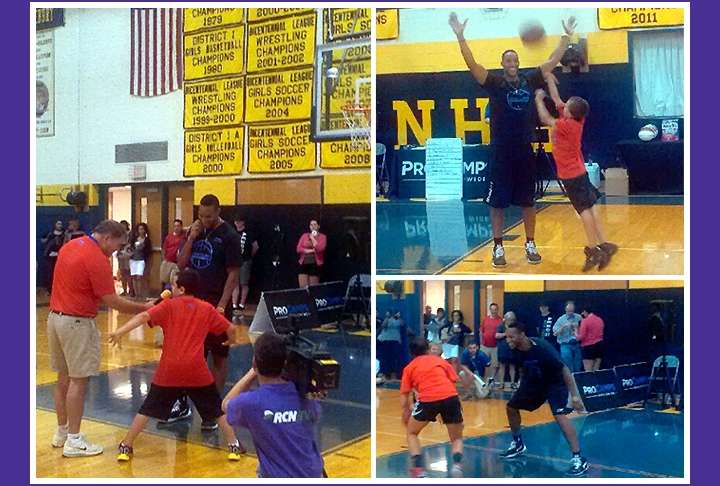 Kudos to the RCN Marketing Department for staging a coup for us!
They arranged for an exclusive one-on-one interview with the 76ers'  staring forward and the former 2nd-overall draft pick Evan Turner  for us, and the interview came on the heels of the Sixers announcement that they FINALLY named a head coach! (Watch Evan's reaction below when I ask him about the long process).
Before we talk about the on-the-court issues, I asked Evan about (and give him credit for not ducking those questions — including the one on his own future with the team as he's in his last year of his contract), a quick word about Mr. Turner and his camp. I've been to a number of camps with pro and former pro athletes, and I was very impressed with the way that Evan conducted himself with the youngsters. He genuinely seemed interested in the kids and spent TONS of time talking with them (one youngster must've had his ear for at least 25 minutes). He never blew anyone off, answered everyone's questions, and never once—even briefly—acted like he did not want to be there.
He spent time working on drills with his staff (his supporting coaches also really seemed to do a great job), and had some fun with them during individual drills (the kids, of course, loved it when he dunked). It was very nice to see an NBA star be very humble and very accommodating to his fan base. Over the last few years, we've gotten a number of people who say they no longer have interest in the NBA. We've had more than one viewer call it a "thug league," based on some of the athletes who bring guns into locker rooms and wear gangsta clothing while on team trips, et al. I myself have never had an issue with a 76er player or a member of their organization (I covered them regularly for four years), and was happy to see that Evan did nothing to divert that opinion.
As far as the interview, we listed a few of the questions below, with the rest of the interview to be show on this Thursday's "SportsTalk" show at 6 pm and on RCN On Demand for your viewing pleasure.
What do you think of the 76ers off-season moves, the hiring of Brett Brown as head coach, and Evan's future with the team? Do you think he'll 'step-up' with the new regime, or should the team "tank" for a higher draft pick? Post a comment below and email us at RCNSportsTalk@rcn.com and we'll address your comment/questions on our next program (our Aug. 22nd show will also include beat writers discussing the Eagles/NFL issues, the Phillies & Charlie Manuel's departure, and high school sports preview features).