Renee Washington & More "Firsts"
We have been blessed to add several new guests to our "ATVN SportsTalk" show over the last year and I'm pleased to announce that Renee Washington will be making her debut on our program this Thursday, live at 7pm.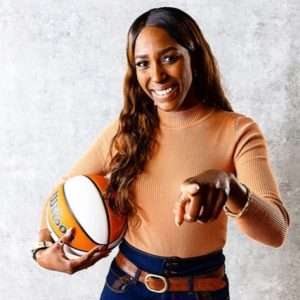 Renee graduated just a few years ago from Lehigh University, yet already has had some amazing experiences in her career!
She is a three-time All-American and Hall of Fame soccer player. Renee has worked with ESPN, Fox Sports, and MLB Network. She is the host of "Beyond the Headlines with Renee Washington" podcast, covering all things sports, music, and entertainment. She has also contributed to the "Daily Dive" covering the NLL, and "Swinging and Missing" covering Major League Baseball. She has covered all sports collegiately or professionally and most recently worked with the NBA, WNBA, NFL, NLL, MLS, and MLB.
Outside of reporting, Washington is also a motivational speaker, entrepreneur, small business owner and author. In December of 2020, she launched the organization "Planted, Not Buried" focused on empowering, educating, and inspiring others through access to resources, events, and more.
This past week she worked the Penn versus Harvard Men's Basketball game for ESPN.
On this Thursday's show we'll be talking about all of those experiences as well as discussing some local college basketball in both the Lehigh and Delaware Valley regions.
Additionally, we'll have insights on some of the recent developments locally so far this winter in the Lehigh Valley–including the controversial Emmaus vs. Pocono Mountain West game last weekend.
Be sure to tune in or set your DVDs for this Thursday's "SportsTalk."
********
And speaking of local sports…
We have a busy week – and will be breaking new ground – coming up over the next several days on ATVN!
In addition to having two Lafayette College basketball games, we will be presenting the first-ever regular season girls basketball game in our network's history. Two of the top teams in our area, Emmaus and currently undefeated Easton, will face off against each other. Our "other" matchup Tuesday will be Whitehall versus Freedom–a game that the Pennsylvania Cable Network has selected to pick up our feed and broadcast across the Commonwealth.
We also will have our first-ever Colonial League wrestling broadcast, featuring Saucon Valley and Notre Dame–two schools who faced off in the state championship tournament last season.
In two weeks on "SportsTalk," we will have District XI Chairman Bob Hartman on to preview this year's revamped district wrestling playoff formula, discuss his hiring of former Elon University assistant Andy Marino as the new head coach of the Whitehall football team, and a number of other local issues that are affecting the sports communities in our coverage area.
Also coming up, more insights on the march for women's wrestling as it looks to gain official sanctioning in Pennsylvania with commentary from our own Cameron Nunez, and another edition of "Coach Carnes' Corner" focusing on the local women's basketball landscape.
Don't look now, but we are also already less than a month away from the winter league and district high school playoff contests getting underway, which means a TON more scholastic sports action coming to the Astound TV Network through the entire postseason for the next two months.
Make sure you bookmark and keep checking back to our website for more basketball game and wrestling match updates as we bring you even more "firsts" to our television audience this winter!
The views expressed in this blog are those of the author and do not necessarily reflect the official policy or position of Astound Broadband or any other agency, organization, employer or company.