The views expressed in this blog are those of the author and do not necessarily reflect the official policy or position of RCN or any other agency, organization, employer or company.
It's not riveting TV – No, I am not talking about my last ZOOM appearance on RCN TV's Sportstalk (although truer words could not be spoken).  I am talking about the ABC, ESPN, and NFL Network broadcasts of the NFL Draft which drew an amazing 8.4 million viewers.  I was one of them.
I have never been an avid watcher of the program, for the very reason I have suggested – it's boring.  And it's boring not for one night, not for two days, but for three days.  However, this year when we are into rerun season of the shows we normally watch and HGTV is giving my wife just TOO MANY ideas about our house, I needed a change.  I was tired of trying to decide if we should flip or flop; list it or sell it; stay in our forever house; or what?  The Property Brothers have become nightly visitors and, all they do is make me look totally inept at doing virtually any household chore.
So – I suggested that I should watch the NFL Draft since my job does revolve around sports.  As I have said, but don't tell my wife, I find this show boring.  In normal times, I would not watch.  There is almost no action except for the highlights of the players who are drafted.  There is the "very exciting" exchange of a handshake and team logoed baseball cap with Roger Goodell, the NFL commissioner.
You might say there is the drama of not knowing what name will be called, but draft analysis has been going on for almost two months (there was nothing else to talk about in the sports world) so surprises are few and far between.  But this year would be different.  There would be no huge crowd in Las Vegas booing the commissioner, booing a selection, and getting an immediate response from the next instant multi-millionaire right after that player is selected.  This year would be different.
Everyone stayed home.  This meant I could see Roger Goodell's basement.  Honestly, it could have used some HGTV renovation.  And this was not his element at all.  He seemed so uncomfortable trying to rev up the 50 or so fans who were shown on the screen behind him.  Often, he saw a cue a bit late (another awkward moment) and was not aware he was on camera.  It's a nice TV job for one night, however.  Have someone hand you a card and read the name.  I think I could do that.
I did find it entertaining and technically impressive that early on the draft choices could be shown in their homes surrounded by family (not necessarily keeping any distance).  And catching the reactions of the family after the name of their son, brother, relative, or boyfriend was enjoyable.
I still found the program to be tedious.  What I did realize is that I am desperate to find something to create interest after over 40 days and nights of self quarantining.  Truth be told, I did not watch days two and three.
But, at least on this one night, I did not hear the question, "Could we do this in our house?"  Property Brothers be damned!
Stay safe.
ABOVE THE EARS (SOME MUSINGS) 
The Eagles did not have much going for them on the excitement meter for the draft. Everyone knew they would take a wide receiver on the 21st They did.  Their selection was Jalen Reagor of TCU.  Many thought they would take Justin Jefferson, but they went with a little more speed and a better positional fit.  In the end, the Eagles drafted three wide receivers, three linebackers, two offensive linemen, a safety, and a quarterback.  If the selections are good ones, many holes have been filled.
With Tom Brady paired up again with Rob Gronkowski, Tampa Bay took an offensive lineman as their first pick to protect their new quarterback. This team is going to be good, perhaps, very good.
I hope you are watching The Last Dance on ESPN, Sunday nights at 9:00. It is the story of the 1997-98 Chicago Bulls with Michael Jordan as the focus. It is riveting TV and an amazing achievement for the documentarians.  If you are a sports fan or not, I think you will be mesmerized by the show.
With all the innovative ways of trying to stream relatable programming to their fans, Lafayette is going to hold a virtual tailgate party this Saturday (5/2) at 11:00AM. I will host along with Mike Joseph and we will have head coach John Garrett and the 2020 football captains on to answer questions from the fans.  It will be on ZOOM.  You can be a part of the stream.  Click here for info.
The teams of Tiger Woods and Peyton Manning against Phil Mickelson and Tom Brady will meet in a charity golf match next month. The event will air LIVE on TNT, without the fiasco created last time by Pay-Per-View.  Brady is already getting his jabs in.  (See below)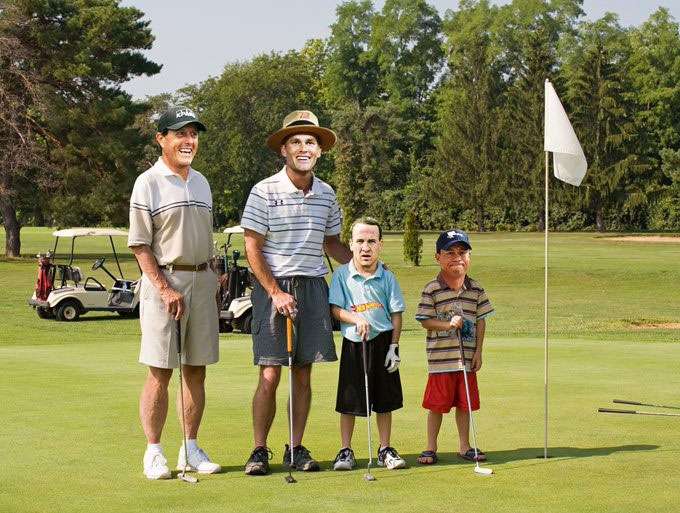 Photo courtesy of Tom Brady