This is our annual "parade" week here at the Astound TV Network. Our crew members are busy providing coverage of local Halloween activities and community events to our viewers. This is also the week where our SportsTalk show, and our weekly high school football polls, take a week off.
However, this is a special week as we would like to introduce the newest member of the ATVN Sports staff. Amirah Moody is a former high school standout now in college and will be starting to take on several different roles within our broadcasting family.
  Today, she takes over the keyboard here at "The Shop" and shares a bit of information about herself and her views on how participating in sports has played a role in her life.
******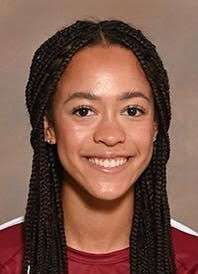 Ten years ago, I played volleyball for the first time, not knowing this would be the sport that would help shape me into the person I am today. My mom was my coach and she taught me the basics of volleyball: how to pass, set, underhand serve, not to fear the ball, and to have fun. She introduced me to the sport I love to play and that has become so integrated into my life. I played soccer and basketball for a few years, tried out dance and gymnastics, but nothing stuck or felt right like when I was playing volleyball.
During high school I realized that volleyball is not about how strong or how fast you are, it's about your mindset and you must have a strong mentality when playing the game. I graduated from Bethlehem Catholic and played for them all four years. I was nervous trying out for the high school team, so nervous and scared I would make a mistake. This caused me to make millions of mistakes and all I could think about were the mistakes I was making. My high school coach told us to shake off our mistakes and I started to learn how to have a "next ball mentality".
My attitude shifted from self-deprecation to self-actualization, and I try to always remember that volleyball is a game of mistakes, but it is all about what you do with that mistake. Do you stress about that one mistake and become fearful of making another one, or do you think about how you can do better for the next ball? By understanding this, it not only helped me as an individual player and the teams I was a part of but this "next ball mentality" also helps me in school and everyday life.
Everyone makes mistakes; being able to learn from them and move forward is the best way to handle them.
Being a student athlete in the Lehigh Valley gives you a lot of connections to coaches, both high school and college; trainers; and players from other schools; which broadens the opportunities and experiences you could have in the future. I have had opportunities to help coach at local summer camps, guest play for local travel teams, had babysitting jobs for local coaches, provided individual training to young up-and- coming volleyball players; the list goes on and on.
Now I am a senior at Muhlenberg College, and my current head coach is the same coach I had when I was 14 years old playing travel club volleyball for CrossCourt Volleyball Club. I feel privileged to have had Coach Rob as a coach at the beginning of my competitive volleyball career and now also during my last competitive year playing my senior year in college. While attending and playing at college, I have been offered so many opportunities and endured many experiences that helped shape the person I am today.
Throughout my ten years of playing volleyball, I had many coaches, all with different coaching styles and personalities. These differences helped me, as my coaches have all been people I look up to and who have helped me learn how to work with different types of people. I had the opportunity to coach volleyball for CrossCourt Volleyball Club the past three years and it was an amazing experience. I knew who I wanted to be as a coach because of the coaches I had throughout my career. I learned a lot as a coach the last three years and my love for volleyball grew even more. Looking into the future, I will continue to coach and help young volleyball players learn the life lessons I have learned over the years while also playing the game they love!
*******
Please join us in welcoming Amirah to our communications family!
The views expressed in this blog are those of the author and do not necessarily reflect the official policy or position of Astound Broadband or any other agency, organization, employer or company.