While most of the RCN crew was broadcasting the LVC Baseball Championships, "SportsTalk" cameraman Mike Kingsley and I had the privilege of reporting on the Colonial League Championship in Limeport. It was a special night for a few reasons.
First … what a tremendous turnout! I decided to drive my personal car to the event and allowed Mike to have our "press spot", not realizing that I would end up parking about a quarter-mile away due to the tremendous turnout and a completely overloaded parking area. Needless to say, it was a beautiful night and I NEEDED some exercise, so everything worked out fine. Too often, baseball (and other spring sports) are hurt by having to play games in the afternoon when parents/family members/friends, etc. are working and can't see their kids in action. With this event, the under-the-lights atmosphere of the historic/unique Limeport Stadium (complete with cows in the right field "bullpen") was heightened by the jammed-packed stands. It was great representation for the Colonial League to have so many people in attendance.
Second … thanks to the fans who came up to me and had so many nice things to say about the spring sports season, the kids, the teams, the great ball games and the numerous complements our "SportsTalk" team members received for our coverage of local teams and players. There are so many wonderful people in this area. It's always good to talk about the positives in the community when dealing with high school athletics.
Third … Congratulations to the championship-winning Falcons, who are getting used to quality performances in big game situations. The Salisbury baseball team won their second consecutive league title, and fourth championship in the last five years (3-leagues & one district title). The "kids" were great to speak with and truly handled themselves with class and respect for the runner-ups, a very good Southern Lehigh team. The Falcons know how to play the game and appreciate their accomplishments, without letting it inflate egos or affect their focus.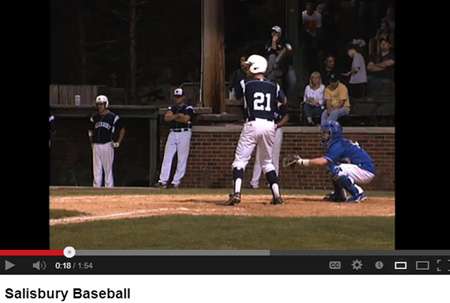 You can view the segment at http://youtu.be/Wt3wS3W8isI
Justin Aungst had a particularly spectacular night; keeping hitters off-balance all evening on the mound, while providing the only offense the team would need–a first-inning, two-run home run over the left field fence. The team made some great plays behind him and they didn't hurt themselves with mental errors (this team rarely does under Manager Mike Pochron). Their "celebrity" status (see the number of Youtube hits for their basketball game's last second playoff win over highly-touted Wilson) hasn't affected the players during their near-perfect baseball season to date (ironically, their only loss thus far was to Wilson). This group of underclassmen, most of whom have played together since third-grade, look for even higher goals the rest of this season.
Likewise, we had produced a feature on the Whitehall baseball team a few weeks ago on our "RCN SportsTalk" show (available on video-on-demand), and they, too, have envisioned some lofty goals thanks to their very workmanlike approach and success. Here are some of the highlights from the Zephyrs' LVC championship win.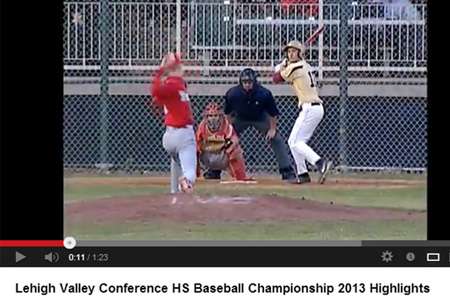 You can view the segment at http://youtu.be/WwU7R1cQ1RE
Post below who you would like to win the District XI baseball playoffs. Can any teams from the RCN viewing area make a run in the state playoffs? Selfishly, I hope so. Gary Laubach, Scott Barr and I will once again be working with the RCN crew to broadcast the PIAA state finals at State College again this year. While I find it interesting to meet and interview new people every year at this event, it's also nice to see some familiar faces in the title games.