CLASSIC VIDEO SHOWPLACE: "Algiers"
 For over a hundred years some of the greatest video treasures of all time have been produced. Some have been lost in the sands of time and others, soon to be rediscovered, will become fan favorites for a whole new generation. 
 Each week we will feature just one of the many hidden gems that you can see on RCN TV with insights and commentaries on classic television shows and legendary cinematic performances. 
The 1938 film, Algiers, has the double distinction of not only being a successful movie upon its release but also in spawning several other projects and catchphrases that have survived to this day.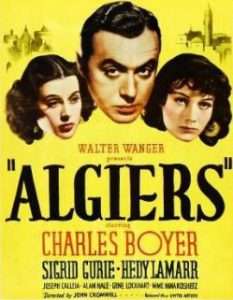 The film grossed over $150,000, which was not only a high mark for the time period, but also more than doubled its net gain after total production costs.
Charles Boyer played the lead, Pepe Le Moko, which was also the title name of the original novel and a French-produced film that was made prior to Algiers.
According to TCM.com, Boyer was not fond of this movie for two big reasons.
First of all, both producer Walter Wanger and director John Cromwell made a conscious decision in trying to mirror the French film to their English-speaking version, complete with using the same music score and set designs.
Furthermore, they insisted that Boyer copy the style of Jean Gabin, the original actor who portrayed the lead in the initial French version, and refused to let Boyer stray far from the original intention for his character.
Boyer was critical of the lack of creativity during the production process but grew to hate this role even more as he became known for the line that would follow him for the rest of his career: "Come with me to zee Casbah."
As the popularity for that line grew, Boyer felt demeaned as an actor as the line was repetitively and increasingly lampooned in the years that followed.
According to several sources, Boyer's 'Pepe Le Moko' character led to the creation of the popular Looney Tunes' star, Pepe Le Pew, modeled after Charles' delivery.  Looney Tunes specifically parodied Algiers in an episode entitled, "The Cat's Bah," 15 years after the film's release.
Ironically, much like "Play it again, Sam," that is still linked with Humphrey Bogart to this day, Boyer didn't actually say the "Casbah" line himself.
The movie also marked the first major role for Hedy Lamarr, who embarked on a 28-year movie career, starring in 30 films.
According to "Film History: An International Journal" by David Pierce, the screenwriters of Casablanca cited Algiers as the inspiration for their film with the original intention of starring Lamarr in the now legendary role of Ilsa Lund. In 1942 Lamarr was contracted to MGM, who would not release her from her contract, so Ingrid Bergman ended up getting the female lead and Casablanca went on to make cinematic history.
Do you think Hedy Lamarr could have done a better job than Bergman as Ilsa Lund?  Do you think Boyer's performance really sparked the inspiration for Pepe Le Pew?  You can speculate for yourself after watching Algiers this Monday, September 7, at 2:30 p.m. on RCN TV.
To view the complete rundown of classic programming on RCN TV, check out the weekly listings here on our website.