CLASSIC VIDEO SHOWPLACE #2: Dangerous Assignment
The views expressed in this blog are those of the author and do not necessarily reflect the official policy or position of RCN or any other agency, organization, employer or company.
For over a hundred years some of the greatest video treasures of all time have been produced. Some have been lost in the sands of time and others, soon to be rediscovered, will become fan favorites for a whole new generation.
Each week we will feature just one of the many hidden gems that you can see on RCN TV with insights and commentaries on classic television shows and legendary cinematic performances.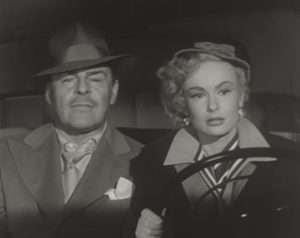 (Donlevy, left, portraying Super Spy Steve Mitchell in Dangerous Assignment)
Spy thriller fans will probably argue forever about whether Sean Connery, Roger Moore or Daniel Craig is the best James Bond ever.
Barry Nelson initially played the "Jimmy Bond" character in an episode of TV show Climax entitled "Casino Royale".  But you can make a strong argument that Brian Donlevy was the first actor to play a 007-esque character on the screen several years earlier.
Donlevy starred as the suave and sophisticated undercover spy in the early 1950s classic television show, Dangerous Assignment, where he was sent to exotic locations to complete impossible missions, using wit and fighting techniques (along with some unique technological gadgets) in order to save the world from villainy.
Right down to a quick opening teaser before the credits (over a decade before the first full-length Bond film, Dr. No) the format for the on-screen spy film was born.  Shortly after the introduction, Steve Mitchell (Donleavy) would report to his supervisor's office (there was no "Moneypenny" yet) who would outline his upcoming mission, give key facts about the plot and supply him with the technology and inside information necessary for defeating his nemesis for that evening's program.
From there, Mitchell would travel the world, charm women (his delivery paralleled Humphrey Bogart more than any actor who would later handle the role of Bond) and escape death-defying predicaments, with some rather uniquely choreographed fight scenes.  Like almost every James Bond film, Mitchell always won the day and featured were very intriguing storylines and exciting climaxes worth watching.
Guest stars included Hugh Beaumont who, within a couple years, would find success as Ward Cleaver on the classic Leave it to Beaver series, and Harry Guardino, who also guest starred in over a hundred television programs spanning a four decades career, in shows ranging from Studio One to Murder, She Wrote.
Another guest star includes a rare TV performance by Paul Frees who performed many commercial voice-overs and created famous cartoon voice. He was even regarded as the original "man of a thousand voices" (according to "The A to Z of Old Time Radio") while working in the same time period as venerable voice master Mel Blanc.
Despite having success on NBC Radio, the show initially failed to grab a network television sponsor. Donleavy invested his own money and produced the first 39 episodes before the series was eventually picked up and later distributed by NBC Television.
Assignment additionally produced a total 167 radio programs made both before and after its run on the small screen.  It was also unique in that it was one of the first shows to have success in the syndicated market, decades before shows like Baywatch, Star Trek: The Next Generation and others began utilizing this valuable outlet.
Years later, TV comedy Police Squad, which spoofed many great spy and police-driven classics, paid homage to this Donleavy-led program by poking fun at a few of the show's quirks, and even titled one of its initial episodes, "A Dangerous Assignment."  Fans of Frank Drebin may want to revisit these shows to get a glimpse of the inside jokes. 
You can see the premiere episode of Dangerous Assignment as it debuts on the RCN TV spring schedule this Friday at 11:30 am.
To see the full listing of classic programming on RCN TV, check out the weekly listings here on our website.