CLASSIC VIDEO SHOWPLACE: Roy Rogers- "The Movies"
The views expressed in this blog are those of the author and do not necessarily reflect the official policy or position of RCN or any other agency, organization, employer or company.
For over a hundred years some of the greatest video treasures of all time have been produced. Some have been lost in the sands of time and others, soon to be rediscovered, will become fan favorites for a whole new generation.
Each week we will feature just one of the many hidden gems that you can see on RCN TV with insights and commentaries on classic television shows and legendary cinematic performances.
Roy Rogers starred in a television show which successfully ran for several years and had some unique stories of its own (which we will address in another blog entry).
But this week, we'll focus on his early career and successful cinematic performances, many of which are airing this month on Monday mornings on RCN-TV.
Contrary to what you may think, one of the most popular cowboys of all time, Rogers was born in the non-western town of Cincinnati, Ohio. He traveled to different cities and toiled in several jobs before eventually starting his entertaining career as a musician in Inglewood, California.  His first gig was as a member of a short-lived musical group called "The Rocky Mountaineers" in 1931.
It took three more years (and participating in several additional failing musical groups) before Rogers, now a part of a group called "The Sons of the Pioneers," recorded his first successful song, "Tumbling Tumbleweeds."  More musical successes soon followed which gave Rogers the start of his movie career in 1935.  However, once again, it took Rogers several years before he found success on the big screen.
In 1938, Republic Pictures held a contest looking for a singing cowboy; the contest included several established movie actors of the time. However, Rogers, still relatively unknown in the film industry, won the contest and soon hit it big with several successful movies.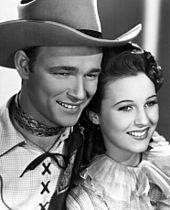 (Rogers with Lynne Roberts in "Billy the Kid Returns")
Two of his first big movie hits were the 1938 films "Billy The Kid Returns" (starring alongside the popular Smiley Burnette) and "Shine On, Harvest Moon" (co-starring with Mary Hart).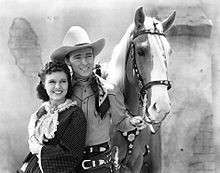 (Rogers and Hart in "Harvest Moon")
Both of these films will be shown in the "RCN Movie Vault,' airing on Monday, June 15, starting at 9 a.m.
By 1940 his surging popularity allowed him to rewrite his contract and included owning the rights to his likeness, leading to the sale of the popular Roy Rogers action figures.
Along with Gene Autry, Rogers became one of the most popular "B movies" Western stars in the 1940s and early 1950s.
He supported John Wayne in the 1940s classic, "Dark Command", and for 16 consecutive years won the 'Motion Picture Herald Top 10 Money Making Western Stars' poll.
While his trademark song, "Happy Trails", did not come along for several more years (the song was written by his future wife, Dale Evans), Rogers continued to cross-market his movie and music successes throughout the 1940s, resulting in a number of popular Western films still reviewed by film students to this day.
A unique aspect of Rogers' films was that it would often spill out of the atypical Western genre. For example, sometimes his trustee horse, Trigger, would go off for several minutes on an animal adventure. It was a rarity in many Hollywood films to go several minutes without a single bit of dialogue nor hardly any musical accomplishments.
You can see the many different elements of Roy Rogers' classic films on Monday mornings over the next several weeks on RCN-TV.
To view the complete rundown of classic programming on RCN TV, check out the weekly listings here on our website.