Take 5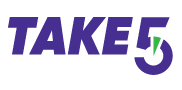 What can you do in five minutes?  Do the dishes, dry your hair, check emails.  The list goes on.  At RCN TV, five minutes is enough time to give viewers the inside scoop on an amazing local organization, or how one person is making a difference in the community, or teach you how to do something new.  That's Take 5 – a program that offers valuable information – in just FIVE minutes.
Below is Take 5's current schedule: 
Date
Topic
January 2
Carlee Jackson #1
A look at the marine science TV's stars life and upcoming projects.
January 9
Carlee Jackson #2
Discussion on promoting diversity and inclusion in marine biology and science.
January 16
Carlee Jackson #3
Programs and benefits for women of color in the field of science.
January 23
Mayor Reynolds #1
We introduce the Mayor of Bethlehem as he outlines his goals and initiatives.
January 30
Mayor Reynolds #2
The Mayor of Bethlehem discusses the biggest and most important challenges facing the residents of his city.
If you have a suggestion for a Take 5 show topic, please contact the producers at Take5@rcn.net.  Include a short paragraph describing your suggested topic along with preferred contact information (name, address, phone number and email address). Each Take 5 episode will broadcast from Sunday to Saturday for one week at the following times:  Sundays @ 7:25 pm & 10:55 pm;  Tuesdays @ 1:25 pm, 6:25 pm, and  6:55 pm and Thursdays @ 8:25 pm.  Take 5 may air at additional times throughout the week.