CLASSIC VIDEO SHOWPLACE: "Made For Each Other"
 For over a hundred years some of the greatest video treasures of all time have been produced. Some have been lost in the sands of time and others, soon to be rediscovered, will become fan favorites for a whole new generation. 
Each week we will feature just one of the many hidden gems that you can see on RCN TV with insights and commentaries on classic television shows and legendary cinematic performances.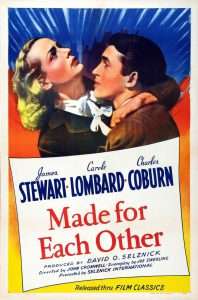 The film, Made For Each Other, was not the most successful film in 1939.
Competing with the likes of The Wizard Of Oz, Gone With The Wind, and other classics, it was not a surprise when this film did not make a ton of money upon its release.
However, it is significant and deserves a viewing for many reasons.
Carole Lombard is probably one of the most underrated stars of the 20th century.
In her short life she was one of the top dramatic actresses in the first few years of "talkies" and, in the 1930s, was one of the most successful comedic actresses of the time period.
In 1939, the year Made For Each Other was produced, Lombard was the highest paid female actress and the entire industry.
Ironically, at the height of her comedic fame she decided that she would be taking more seriously as an actress if she returned to dramatic roles, as she did in this film.
It looked like this career decision would turn out to be the right one as critics lauded Lombard's performance.  Sadly, it turned out to be her last great dramatic role.
Despite her death at the tender age of 33, Lombard had one of the most diverse and interesting careers in the "Golden Era" of Hollywood. The year 1939 was a pivotal time for Carol — both as an actress as well as for herself personally and for the nation.  We'll be focusing more on her great work as an actress and as a humanitarian in a future blog entry here at the "Showplace."
Stewart, meanwhile, was just beginning to mark his legacy and, in this film, was still developing his famous on-screen persona that would make him the third most popular male movie star of all time.
One of Stewart's biggest traits was his slow, drawn-out delivery – almost as if he is truly reflecting on his lines before he says them. Alfred Hitchcock used this skill to perfection in his thriller films starring Stewart as the actor's deliberate stutter often caused tension and anxiety at key moments.  Stewart's "stammering" is something that is barely noticeable in his earliest works.
In Scott Eyman's "Hank and Jim: The Fifty-Year Friendship of Henry Fonda and James Stewart," Jimmy points out that in his early film roles he was all "hands and feet."
Knowing these facts, it's very interesting to see his on-screen performance in "Made" and to watch these traits as the actor says his lines and maneuvers his way around the set.
Stewart had just starred in Frank Capra's You Can't Take It With You and would also be performing in the classics Mr. Smith Goes To Washington and Destiny Rides Again later this same year.
It's fascinating to go back and watch both of these iconic actors' performances in this film, knowing what was to come down the road for both of them.
You can see Made For Each Other starring Carol Lombard and Jimmy Stewart this Monday at 2:30 p.m. on RCN TV.
To view the complete rundown of classic programming on RCN TV, check out the weekly listings here on our website.